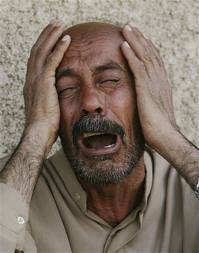 Medical staff strike in Sebha after patient abducted and killed
By Ashraf Abdul-Wahab.
Triploli, 16 December 2013:
Staff have gone on strike at the Sebha Medical Centre after a patient was kidnapped from an operation room today at gunpoint and killed nearby.
Mohammed Abdel Hafiz Busafa, Assistant Director for the Sebha Medical Centre, said that the body of a patient who was being treated for an infected gunshot wound has been found on the steps of a nearby building after unknown gunmen threatened doctors and staff and abducted him while he was under anaesthetic.
Busafa said the kidnapping and subsequent killing had caused "shock and bewilderment" at the hospital and added that medical personnel were in a state of fear. He expressed outrage at the abduction and condemned it as a appalling attack on patients' rights. Busafa said that the acts of criminals had impinged upon citizens and the provision of medical services.
Egyptian driver killed by Brotherhood supporters
Dec. 17, 2013 at 6:11 AM   |   0 comments
Supporters of Egypt's ousted President Mohammed Morsi, clash with Egyptian security forces in Ramses Square, downtown Cairo, Egypt, August. 16, 2013. Muslim Brotherhood protests plunged into violence across Egypt, with around 50 killed in Cairo alone on a "Day of Rage" called by Islamist followers of ousted President Mohamed Morsi to denounce a police crackdown. UPI/Ahmed Jomaa
CAIRO, Dec. 17 (UPI) — Muslim Brotherhood supporters slit the throat of a taxi driver after he allegedly ran over a female protester Monday in Egypt's Nile Delta, officials said.
The taxi driver demanded protesters demonstrating in Dagahliya move and allow him to drive through. When they refused, he allegedly ran over a female protester, Ahram Online reported Tuesday. The raging mob attacked the taxi driver and slit his throat, killing him, and then torched his car, the Egyptian website said.
Afghanistan aircraft crash kills six US soldiers – Isaf
Six American soldiers have died in a crash involving an aircraft in southern Afghanistan, the International Security Assistance Force (Isaf) says.
The cause of the crash in Zabul is unknown and an investigation is under way, Isaf said.
Initial reports indicated there was "no enemy activity in the area" at the time of the incident, a short statement said.
US defence department officials confirmed the victims' nationalities.
The deputy governor of Zabul province told the Associated Press news agency that a Nato helicopter had crashed in the remote district of Shajau.
Syria activists say Aleppo air raids killed 100
In this Sunday, Dec. 15, 2013 citizen journalism image provided by Aleppo Media Center, AMC, which has been authenticated based on its contents and other AP reporting, Syrians gather around damaged buildings while others try to extinguish fires following a Syrian government airstrike in Aleppo, Syria. The Britain based Syrian Observatory for Human Rights said Monday that dozens of children were among scores killed in airstrikes on several opposition areas a day earlier. ALEPPO MEDIA CENTER, AMC — AP Photo
BY BARBARA SURK
Associated PressDecember 17, 2013 Updated 1 minute ago
BEIRUT — Syrian warplanes stepped up airstrikes on rebel-held districts in Aleppo on Tuesday, the third day of an assault that has killed more than 100 people in the northern city, activists said.
The strikes come hours after U.N. Secretary General Ban Ki-moon demanded a cease-fire in the nearly 3-year-old conflict, in which more than 120,000 people have been killed.
The escalation suggested the Assad government was redoubling efforts to drive the opposition out of Aleppo, Syria's largest city and once the country's commercial hub, before a peace conference expected to take place in Switzerland in five weeks.
The opposition has controlled parts of the city for more than a year. On Tuesday, the main Western-backed opposition group, the Syrian National Council, accused the international community of "failing to take any serious position that would guarantee a stop to the bloodbath" ahead of the talks.
Pakistanis among 8 Taliban rebels killed in Ghazni clashes
By GHANIZADA – Tue Dec 17, 11:18 am
According to local authorities in eastern Ghazni province of Afghanistan, at least 18 Taliban militants including Pakistan nationals were killed or injured in this province.
Security officials in Ghazni province said, the militants were killed during the military operations in Andar district, during the past three days.
A spokesman for the Afghan national army in Ghazni province confirming the report said, at least eight Taliban militants including two Pakistan nationsl were killed during the operations.
He said at least ten others were also injured during the clashes, and Afghan national army soldiers have not suffered any casualties.
More here.