The good thing is, that she no longer lives here, the bad thing is, she now plagues the Netherlands.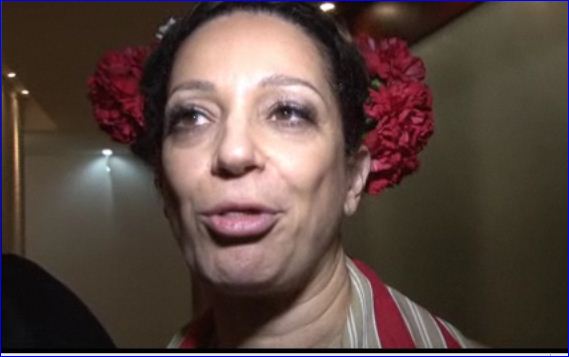 But don't worry Umayya, the fake journalists at Finnish state broadcaster YLE, will always give you a platform to vomit your abuse of the Finns and the Jews. Why don't you go and try your luck in Egypt or in any of the other Muslim states in the ME, then tell us what your nirvana looks like.
One year on, controversial writer says Finland still in denial
Palestinian-Finnish journalist Umayya Abu-Hanna found herself at the centre controversy almost exactly one year ago when the daily Helsingin Sanomat published her account of her decision to leave Finland because of racist attitudes. One year later, Abu-Hanna told Yle News that the vitriol shows that Finnish society has unresolved issues surrounding ethnicity and marginalisation.
Writer and journalist Umayya Abu-Hanna describes herself as Palestinian-Finnish – reflecting her country of origin, and the home she chose to live in for nearly 30 years. About one year ago, her second home turned on her when she described how racism directed at her South African-born adopted daughter prompted her resettle in the Netherlands.
"I think the reaction was that 'Don't dare tell us we're not good enough'. And it was basically that our society – all societies in the world – are in denial about something," Abu-Hanna told Yle News during a visit to Helsinki to pick up a Global Family Award for her courage in opening up a painful discussion on racism in Finland.
The journalist speculated that her background as a Palestinian, "born into a position of marginalisation" may have given her the drive to raise her voice heard and to venture down the path of activism. All the same, she said her article did not claim to speak for any other minority groups in Finland, but was a personal account based on her own experiences.
She described how some immigrants took offence at what they saw as her presumption in speaking on their behalf.
"Who do you think you are?"
"I feel that many immigrants have been very hurt, like,  'Who do you think you are?' and, 'I'm not having a bad time, and now I'm receiving racist reactions because of what you said'," she added.
Abu-Hanna is no stranger to public pressure. Back in the 80s and 90s she had a budding career as a television presenter – cut short when viewers complained about her decidedly un-Finnish accent.