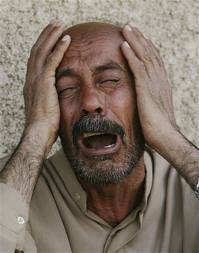 Death toll rises in Syria bombing raid
At least 125 people killed and scores injured by army air raids on rebel districts in Aleppo city.
Last updated: 16 Dec 2013 10:45
Syrian government air raids using barrel bombs on rebel-controlled areas of Syria's second city of Aleppo have killed at least 125 people and injured scores of others, Al Jazeera's reporter in the northern city reported.
Residents on Monday were still trying to recover bodies from the rubble, a day after regime helicopters dropped barrels filled with explosives on civilian rebel-held districts in the northern city.
The Syrian Observatory for Human Rights- which relies on a network of activists, lawyers and medics for its information – put the number of killed at 76, among them 28 children.
The Aleppo Media Centre, a network of activists on the ground, called the raids on the northern city unprecedented".
Nawras al-Nuaimi becomes the sixth journalist to die in Iraq in two months, as deadly violence grips the country.
Last updated: 15 Dec 2013 18:41
Al-Mosuliyah TV confirmed the death of Nawras al-Nuaimi [AFP]
Gunmen have shot dead television presenter Nawras al-Nuaimi in northern Iraq, as attacks across the country left 20 people dead.
Al-Mosuliyah TV and police said that Nuaimi was murdered as she was walking near her home in Mosul, 400 kilometres northwest of Baghdad on Sunday night.
The presenter's death takes the number of journalists killed in Iraq since October to six and she is the fifth journalist killed in the northern city during the same period. 
The mostly-Sunni Arab city is one of the most dangerous areas in Iraq, with fighters frequently carrying out attacks and reportedly extorting money from shopkeepers.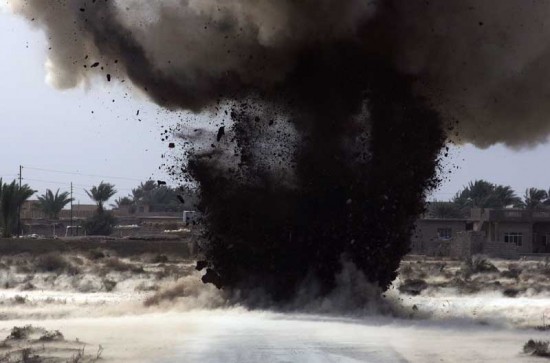 8 killed in roadside bombings in Afghanistan
KABUL, AFGHANISTAN –  Roadside bombs killed eight people, including four civilians, in two separate incidents Sunday in eastern Afghanistan, officials said.
Ahmad Zia Abdulzai, a spokesman for eastern Nangarhar province, said four policemen were killed and seven wounded when their pickup truck ran over a bomb in in the Agam district. He said the dead included the district's police chief.
He said that in an earlier incident, a suicide bomber attacked an intelligence service office near the border with Pakistan, shooting and wounding a guard before detonating his explosives. He added that two intelligence service officials were wounded and the building was damaged by the blast.
Pakistan killing: Shia cleric shot dead in Lahore
A prominent Shia cleric has been shot dead in the Pakistani city of Lahore, sparking an outcry from members of the city's Shia community.
Gunmen on a motorbike killed Allama Nasir Abbas late on Sunday night as he was going home in his car after a religious gathering, police say.
No group has said it carried out the attack on the cleric.
Member's of Lahore's Shia community have been staging a sit-in at the governor's home to express their rage.
Pakistan has witnessed a rising tide of sectarian violence in recent years with a number of attacks targeting Shias in south-western Balochistan province as well as the southern city of Karachi.
Correspondents say Lahore has seen fewer sectarian attacks but there have several in recent months.