They're covering all the bases just in case mother nature does indeed come a calling.
This is the kind of mindset Israel has the displeasure of dealing with on a daily basis. Yet the Nordics believe that Israel should sit down and make peace with the Islamics, no matter what they say or do, or how imbecilic they are.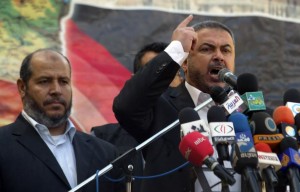 Hamas: Israel Engineering an Earthquake Attack on Al-Aqsa
Hamas Min. of Religious Affairs warns Israel is trying to collapse Al-Aqsa Mosque with 'artificial earthquake' to build 3rd Temple.
Ismail Radwan, Minister of Religious Affairs in Gaza's Hamas government, claims that Israel is trying to cause an artificial earthquake to totallycollapse the Al-Aqsa Mosque on the Temple Mount in Jerusalem. According to Radwan, Israel is attempting to do so to establish the Third Temple.
The comments came at an event organized by female students of the College for Professional Applied Sciences. In response to the supposed "earthquake attack," Radwan called for a general national enlistment to the military, and to support the mosque by having fixed presence at the site.
Radwan said through repeated Jewish access to the Temple Mount, as well as "excavations and criminal acts," the Israeli "occupation" has "arrived at the stage of accustoming Palestinians, Arabs and Muslim to accept the existing reality so as to implement their goals to destroy the mosque and build the supposed Temple."