And the university staff stick their fingers in their ears.
Lets see here: A Muslim, check, wielding a sharp object, check, threatening dangerous bodily harm to those with whom he disagrees, check, and within a multiculti learning establishment where being a Muslim and a Palestinian Arab (a twofer) grants them an automatic elevated status, check.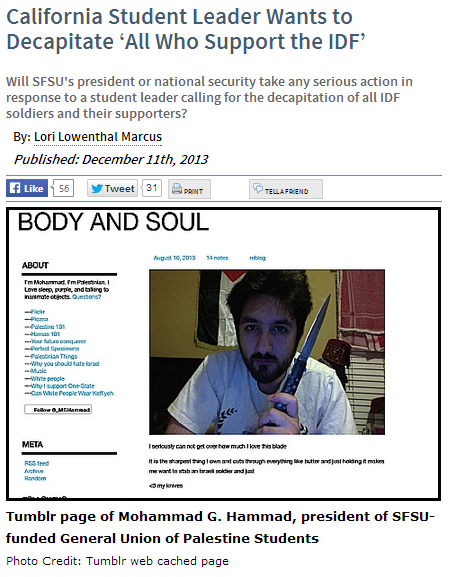 Several weeks ago The Jewish Press brought you the story of the California student leader, Muhammad G. Hammad, who posted on a social media platform a picture of himself holding a sharp blade, and describing how he wanted to stab Israeli soldiers with it.
A new posting on Tumblr from Mohammad G. Hammad, president of San Francisco State University's General Union of Palestine Students (GUPS), has been discovered by the AMCHA Initiative.
It's even more graphic than the earlier one.
In this post, Hammad discusses the death of an Arab 17 year old in Hebron last year. The 17 year old was shot by a female Israel Defence Forces soldier after the youth attacked her and pulled a realistic-looking toy gun on her.  The post includes an entirely fabricated version of the actual events, one which portrays the Arab as a deaf teenager innocently out to get some birthday cake when he was shot to death by the IDF soldier, following an "altercation."
In his "CUPCAKESANDKITTENS4EVER" Tumblr account, Hammad writes:
I'm sitting here looking through pictures of that f[EXPLETIVE DELETED] s[EXPLETIVE DELETED] [NAME REMOVED TO PROTECT THE SOLDIER] ….Anyone who thinks there can be peace with animals like this is absolutely delusional, and the only "peace" I'm interested in is the head of this f[EXPLETIVE DELETED s[EXPLETIVE DELETED on a plate, as well as the heads of all others like her, and all others who support the IDF

[…]

The Liberation of Palestine can only come through the destruction and decimation of this Israeli plague and it can't possibly come soon enough.