From typical morons who know nothing about Islam.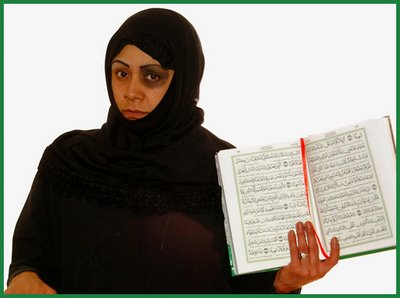 The question I would pose to the EURO-MID researchers is, why is it, that Christians and Jews who have lived within Islamic societies from time immemorial, as well as those same minorities who have left the Levant and Maghreb (due to Muslim persecution) and moved to the West, do not have the same honor murder culture as the Muslims? What's with that?
From the Elder of Ziyon.
European NGO blames Israel for Gaza men beating, abusing their wives
The Euro-Mid Observer for Human Rights has released a laughably biased and inaccurate report about the situation of women in Gaza.
As we have seen before, anti-Israel NGOs like to use any hook they can find to blame Israel and only Israel. The Goldstone Report said no less than eight times that Israel, by attacking Gaza in response to Hamas rockets, was violating the Convention on the Elimination of All Forms of Discrimination against Women, which is beyond absurd.
This report by Euro-Mid shows the same type of bias, specifically using the issue of women's rights – something Hamas is not exactly known for – as an excuse to condemn Israel.
Some lowlights:
Access to services in Gaza has been significantly curtailed by the 7 years long Israeli blockade. The ban on the private sector to import construction materials, medical equipment, and machinery impacts every aspect of life in Gaza, which is already highly affected by the frequent Israeli military operations.
There are no Israeli restrictions on medical equipment into Gaza outside of some paperwork. Even anti-Israel groups admit this. Euro-Mid is lying.
NOTE: I guess they also couldn't care less how a woman is commanded in Islam to be subservient to her husband, in all ways. No doubt it leads to violence when the woman is 'not in the mood'.
"Your wives are a tilth unto you; so go to your tilth when or how you will." (2.223) (Sahih al-Bukhari, Volume 6, Book 60, Number 51)
Allah's Apostle said, "If a husband calls his wife to his bed (i.e. to have sexual relation) and she refuses and causes him to sleep in anger, the angels will curse her till morning." (Sahih al-Bukhari, Volume 4, Book 54, Number 460)

Abu Huraira (Allah be pleased with him) reported Allah's Messenger (may peace be upon him) as saying: By Him in Whose Hand is my life, when a man calls his wife to his bed, and she does not respond, the One Who is in the heaven is displeased with her until he (her husband) is pleased with her. (Sahih Muslim, Book 008, Number 3367)
Scriptural approval for beating them is just the icing on the cake for the misogynist matriarch.
Qur'an (4:34) – "Men are the maintainers of women because Allah has made some of them to excel others and because they spend out of their property; the good women are therefore obedient, guarding the unseen as Allah has guarded; and (as to) those on whose part you fear desertion, admonish them, and leave them alone in the sleeping-places and beat them; then if they obey you, do not seek a way against them; surely Allah is High, Great."

Qur'an (38:44) – "And take in your hand a green branch and beat her with it, and do not break your oath…"  Allah telling Job to beat his wife.