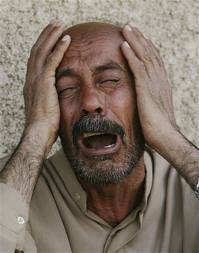 2 Yemen officers killed in hit-and-run attacks
Two Yemeni officers were killed Sunday in separate attacks targeting members of the security forces across the country, a security official and the defence ministry news website said.
In the first attack, unknown gunmen travelling in a car shot dead the security chief of a presidential palace in Yemen's second-largest city Taez, the official said.
The officer was killed on the road as he was heading to work, the official said, without giving further details.
Meanwhile in the southern Bayda province, deputy police chief Abdullah Mohammed was killed in an "ambush by armed men," the defence ministry's 26sep.net website said.
Hezbollah officer killed fighting in Syria:
December 09, 2013 12:49 AM
"Ali Bazzi, a high-ranking Hezbollah military commander, was killed today in a combat zone," the source said without specifying the location.
File – Hezbollah fighters hold their party flags, as they parade during the opening of new cemetery for colleagues who died in fighting against Israel, in a southern suburb of Beirut, Lebanon. (AP Photo/Hussein Malla)
 TYRE: A top military commander of Hezbollah, which is helping Syrian troops battle rebels, died in fighting Sunday in Syria, a Lebanese security source said.
Earlier the Syrian Observatory for Human Rights reported that Hezbollah fighters died Sunday during battles in Nabk, one of the last rebel-held areas in the Qalamoun region bordering Lebanon.
"There is fierce fighting in Nabk between government forces, backed by Lebanese Hezbollah fighters, and Nusra Front and the Islamic State of Iraq and Greater Syria," the group said.
A website for Bint Jbeil, Bazzi's hometown in southern Lebanon, also announced the commander's death and posted pictures of him in military garb and holding an automatic rifle.
Dozens of people killed in latest violence to hit Iraq
Dozens of people have been killed and many others wounded in multiple bombings in the Baghdad area. These were the latest in a string of attacks that have rocked Iraq this year.
At least 30 people were killed and more than 60 injured in Sunday's bombings, which were carried out mainly at crowded market places and commercial districts in predominantly Shiite Muslim areas in or near the Iraqi capital.
News agence the Associated Press put the casualty figure significantly higher, citing Iraqi medical officials who said that in all 39 people had been killed on Sunday.
The worst attacks came in the mainly Shiite neighbourhood of Bayaa in southern Baghdad, with at least five being killed after a car bomb exploded in an auto shop.
Escalating violence in Iraq
Violence is on the rise in Iraq. Hostilities between Sunnis and Shiites are at a peak: The number of victims is higher than it has been for years, and the upcoming election campaign may well make things worse. (29.10.2013)
Sunday's violence came a day after 16 people were killed across Iraq, including nine who were shot dead in liquor stores in Baghdad, according to the AFP news agency.
This has been the worst year in terms of violence that Iraq has seen since 2007, when sectarian violence pushed the country to the brink of civil war.
United Nations figures put the death toll from November alone at 659. At least 6,000 have been killed since the start of 2013.
Libya cemetery blast kills one
A Libyan soldier and army vehicle are deployed in the streets of central Benghazi on November 19, 2013 (AFP Photo/Abdullah
Benghazi (Libya) (AFP) – One person was killed and five wounded on Sunday when a car blew up in a cemetery in Libya's increasingly volatile second city Benghazi, security and medical sources said.
The explosion, after the funeral of a police officer killed in a similar blast, killed one of the car's passengers, security spokesman Ibrahim al-Sharaa said.
Five other people were wounded and taken to a nearby hospital, a spokesman for the hospital said.
Libya has seen growing lawlessness since the 2011 uprising in which rebels toppled and killed long-ruling dictator Moamer Kadhafi.
25 killed in Sudan clashes
Last Updated: Saturday, December 07, 2013, 16:20
Khartoum: At least 25 people were killed and 26 others injured in tribal clashes in Sudan's West Kordofan state, media reported Saturday.
"Twenty-five people were killed and 26 others injured Friday in clashes between Ma'liya and Hamar tribes in Um Dekon area of Qibaish locality in West Kordofan state," the report said.
"The incident took place due to difference between a farmer and some herdsmen and then developed into a clash between the two tribes," said Ahmed Ali Riziq, commissioner of Qibaish locality.
He said that the clashes resulted in burning of some houses of the citizens, reports Xinhua.