The only ones following Mandela's legacy are the Palestinian Arabs, it's only a matter of time before they begin the necklacing.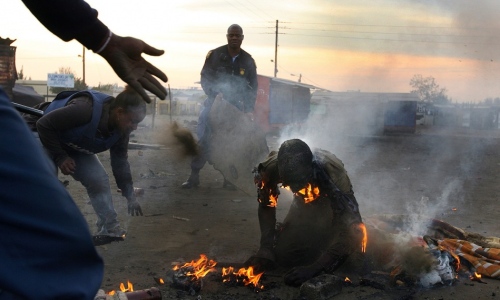 "As you press on for justice, be sure to move with dignity and discipline, using only the weapon of love. Let no man pull you so low as to hate him. Always avoid violence. If you succumb to the temptation of using violence in your struggle, unborn generations will be the recipients of a long and desolate night of bitterness, and your chief legacy to the future will be an endless reign of meaningless chaos." ~ Martin Luther King, Jr., 1956
Mandela chose otherwise, and what resulted, was in fact in the very chaos Dr.Martin Luther King predicted. I believe that Israel is wiser than to fall for such stupidity that PM Rutte is offering. Let him deal with the Netherlands' own problems first.
"At the end of the day… violence was the only weapon that would destroy apartheid." ~ Nelson Mandela, 1959
Dutch PM: Israel can learn from Mandela's legacy on peace
By JPOST.COM STAFF
12/08/2013 18:26
Israel and the Palestinians can learn from South Africa's example and Nelson Mandela's legacy on how to achieve peace, Dutch Prime Minister Mark Rutte told President Shimon Peres on Sunday.
"After Nelson Mandela's passing, we can learn from South Africa on the victory of trust over mistrust and suspicion between the two sides," Rutte said.
"It is the same trust that bridged the gaps between blacks and whites in South Africa that can aid the peace process in the region between Israel and the Palestinians," he said, adding that "we used to think [peace] is not possible, and today we see that it is."
Rutte told Peres the Netherlands is invested in promoting the peace process. "I had a very interesting conversation the the Palestinian Authority president [Mahmoud Abbas]. I came here to learn about the peace process and see how we can continue it together."