Thanks to Kumitonttu for the translation. Published also at the Gates of Vienna for its Rosetta Stone translation of Geert Wilders' letter into different languages.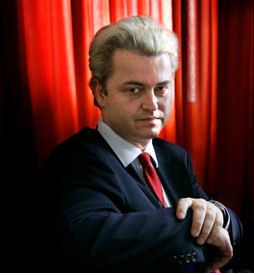 Seuraavan avoimen kirjeen paavi Franciscukselle on kirjoittanyt Geert Wilders, Hollannin vapauspuolueen PVV:n puheenjohtaja.
Avoin kirje paavi Franciscukselle.
Teidän pyhyytenne,
äskettäin antamassanne apostolisessa kehotuskirjeessänne Evangelii Gaudiumissa (kappaleet 247-248) korostitte, että kristityt eivät ole velkaa juutalaisille tai heidän heidän uskonnolleen
Tuomitsette samalla historiassa kristittyjen juutalaisiin kohdistamat ankarat vainot.
Sananne innoittavat monia.
Valitettavasti ne ovat jyrkässä ristiriidassa viime lokakuussa johtavan sunni-muslimin, Kairon Al-Azhar instituutin pääimaamin Ahmad Al-Tayebin haastattelun kanssa. Lokakuun 25. päivänä Egyptin televisiossa esitetyssä haastattelussa pääimaami Al-Tayeb vahvisti koraanin säkeen 5:82 olevan edelleen ajankohtainen. Jakeessa todetaan, että kristityt ovat muslimeille läheisimpiä kun taas juutalaiset ovat kiivaimman vihanpidon kohteena. Tämä jae on vuosisatojen ajan innoittanut muslimeita heidän suhtautumisessaan juutalaisiin.
Al-Tayebin viittaus koraanin juutalaisvastaisuuteen on 1.400 vuotta jatkunutta islamilaista opetusta. Hänen edeltäjänsä instituutin pääimaamina, Muhammad Sayyid Tantawi, kirjoitti kirjan "The Children of Israel in the Koran and the Sunna", jossa hän puolusteli juutalaisvastaisuuttaan koraanin opetuksilla.
Kristittyjen kärsimykset juuri nyt Syyriassa, Irakissa, Egyptissä, Sudanissa, Nigeriassa, Pakistanissa, Indonesiassa ja monissa muissa maissa selvästi osoittaa, minkä osan koraanin seuraajat ovat heille valinneet. Ateistien ja juutalaisten, joiden asema on kristittyjäkin huonompi, voi olettaa kärsivän vieläkin enemmän.
Kehotuskirjeessänne (kappaleet 252-253) toteatte, että "oikea islam ja sen tulkinta ei kannusta minkäänlaiseen väkivaltaan".
Todellisuus ei vastaa lausuntoanne.
Koraani on riidanhaluinen ja lietsoo vihaa ei-muslimeita kohtaan. Jos teidän pyhyytenne lukee koraania, voitte todeta asian itse, joten viittaan seuraavaksi vain
muutamiin jakeisiin:
| | | |
| --- | --- | --- |
| 2:191-193 | | "Surmatkaa heidät, missä heidät tapaattekin […] Taistelkaa heitä vastaan, kunnes pakanuuden viettelys lakkaa ja keskuudessamme vakiintuu ainoan Jumalan palveleminen." |
| 4:89 | | "Jos he palaavat entiseen vihamielisyyteensä, niin ottakaa heidät kiinni ja surmatkaa, missä heidät kohtaattekin, älkääkä ottako itsellenne suojelijaa tai auttajaa heidän joukostaan." |
| 5:33 | | "Ainoa palkka niille, jotka sotivat Jumalaa ja Hänen lähettilästään vastaan […] heidät tapetaan tai ristiinnaulitaan, tai heidän kätensä ja jalkansa hakataan poikki eri puolilta, ristiin, tai heidät karkoitetaan maasta." |
| 8:60 | | "Ja varustakaa (muslimit) heitä vastaan niin suuri sotavoima ja hyvin ravittuja ratsuja kuin vain voitte, säikyttääksenne siten sekä Jumalan vastustajat että omat vihollisenne." |
| 9:5 | | "Mutta kun pyhät kuukaudet ovat kuluneet, niin vuodattakaa pakanain verta missä tahansa heitä tapaattekin. Ahdistakaa ja piirittäkää heitä ja väijykää heitä kaikkialla." |
| 9:29 | | "Taistelkaa niitä vastaan, jotka, vaikka ovat saaneet Kirjoituksen, eivät usko Jumalaan." |
| 9:30 | | "Juutalaiset sanovat: »Esra on Jumalan poika», ja kristityt sanovat: »Messias on Jumalan poika». Tätä he hokevat suullaan. He jäljittelevät niitä, jotka ennen olivat uskottomia. Jumalan ynseys heitä rasittakoon!" |
| 9:123 | | "Te, jotka uskotte, taistelkaa niitä uskottomia vastaan, jotka ovat lähellänne, jotta he kokisivat teidän voimanne, ja tietäkää, että Jumala on niiden kanssa, jotka hartautta harjoittavat." |
| 47:4 | | "Kun siis kohtaatte taistelussa uskottomat, niin nujertakaa heiltä niskat, niin että voitatte heidät!" |
Toivon että pyhä isä on mukana puolustamassa länsimaiden juutalais-kristillistä humaania kulttuuria, jossa jopa ateisteilla ja agnostikoilla on oikeus yksilönvapauksiin ja demokratiaan.
Kieltämällä tosiasiat ei voi voittaa mitään.
Meidän on puhuttava islamista rehellisesti – se on suurin uhka ihmiskunnalle nykyaikana.
Kunnioittavasti
Geert Wilders
Hollannin parlamentin jäsen
Vapauspuolueen (PVV) puheenjohtaja