The doctrine of Islam 101 breeds exactly that.
Sam Harris: "The problem with Islamic fundamentalism, are the fundamentals of Islam."

Lee Rigby witness describes the look of 'pure evil' on killers' faces
Court hears that busload of witnesses were filming the killers slashing at the soldier's throat after traffic stopped in Woolwich
Josh Halliday and Vikram Dodd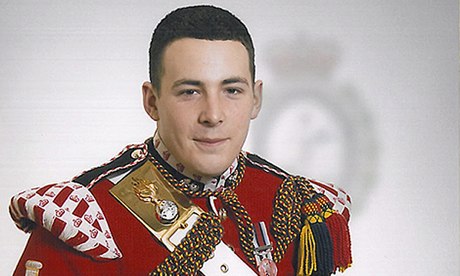 Lee Rigby, a private drummer in the Royal Regiment of Fusiliers, who was attacked and killed by two men in Woolwich, south London, on 23 May. Photograph: AP
A witness to the killing of Lee Rigby described how one of the alleged attackers had an expression of "pure evil" after "ramming" butcher's knives into the fallen soldier, a jury has heard.
Cheralee Armstrong told police in a statement read to court on Monday that she thought she was going to be shot by the suspects after what looked like "they were mutilating his body".
Describing the moments after the attack, Armstrong said "the man in the hat stared at me … his expression was blank but pure evil and his eyes were bulging".
Michael Adebolajo, 28, and Michael Adebowale, 22, are accused of murdering Rigby, a drummer and machine-gunner in the 2nd Battalion of the Royal Regiment of Fusiliers, as he walked back to Woolwich military barracks on 22 May. The pair deny murder.
The widow of Rigby left court in tears as Richard Whittam QC, prosecuting, read statements by a number of witnesses to the knife attack.
Armstrong said she saw one of the suspects "ramming two knives into him", the jury heard. She added in a statement read to court: "It was like they were mutilating his body … it was like they were trying to remove his organs from his torso."
Armstrong said she was shouting: "They're stabbing him. They're killing him" when a bus pulled up and 40 to 50 passengers got off to see what had happened, the jury was told.