The answer stares them in the face.
Recently, the U.S. based Jewish university of Brandeis, terminated it's relationship with the al-Quds university in Ramallah over a pro-Nazi demo. Ari Soffer at Israel National News takes a deeper look into the background behind the phenomenon of Fascist symbolism and rhetoric in Arab/Muslim dialectics in regards to the Jews.
Andy Bostom has been at the forefront in explaining the Islamic textual foundation for Islamic/Muslim antisemitism (here as well) and though Soffer takes the reader through the already well tread reading of Muslim-Nazi cooperation and collaboration against the Jews during the Hitler years, he also includes (unfortunately towards the end) a series of excellent statements by Mordechai Kedar that back up Dr.Bostom's scholarly research:
"Even universities like Al-Quds university are established especially in Jerusalem, in order to show that Arabs and Muslims are the masters of this place and not the Jews, because in their view, if Judaism will control Jerusalem it will mean that Judaism came back to life after Islam came to replace it.

"This is why the basis of the struggle over Jerusalem and over the whole land of Israel is a religious struggle – not between Israel and the Arabs but between Judaism and Islam. This is the essence of the struggle, and everything stems from this archimedic point of the struggle."
NOTE: Ari Soffer would do well in seeking the knowledge that Dr.Andy Bostom can bring to bear on the subject, seeing that he's devoted himself to exposing of Islamic antisemitism to the light of day for some time now.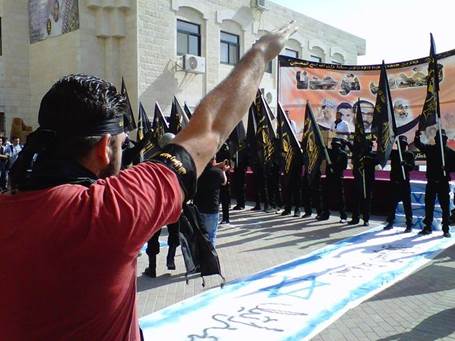 What's With the Nazi Fascination?
Video reveals how Nazi salutes at Islamic Jihad rally on campus are part of a wider trend of Palestinian Nazi glorification.
November 28, 2013 by Ari Soffer
Just over a week since an American university severed ties with the Hamas-linked Al-Quds University in Jerusalem, after pictures emerged showing a Nazi-style on-campus rally by Islamic Jihad in November, further evidence of fascist-style events at the flagship Palestinian Arab institution has emerged.
Video footage, posted by MEMRI (the Middle East Media Research Institute), shows clips from two separate rallies at Al-Quds University, in which Islamic Jihad members, cheered on by other students, take part in a live performance at which they brandish imitation assault rifles and black Islamist flags, and give Nazi salutes.
The live "show" features terrorists killing Israeli soldiers and executing a "collaborator", who is denounced as a "traitor" and a "spy", and suggests that the initial pictures, which were first released by British journalist Tom Gross, were not from a one-off incident but evidence of a much wider phenomenon.