Yeah, that's how manly they are, attacking poor, defenseless nuns.
I also find it telling that the news agency in question in the first article, (AGI), thinks it's journalism to place the word terrorist inside quotation marks, as if the kidnapping of these nuns was the handiwork of kum ba ya social workers. By default, being an agent of al-Qaida makes you a de facto terrorist.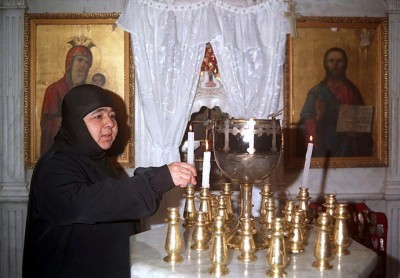 Nuns kidnapped in Christian Syrian town
(AGI) Damascus, Dec 2 – Nuns at the convent in Malula have been taken hostage by Islamic militants, the Syrian news agency SANA reports citing local sources. According to these sources, the sisters and the mother superior, Pelagia Sayaf, from the convent of St. Tecla, have been taken hostage by "terrorists."
The kidnappers have also been reported as having committed vandalism near the convent and around the town and that there are snipers in Malula, which has a Christian majority population. . . AGI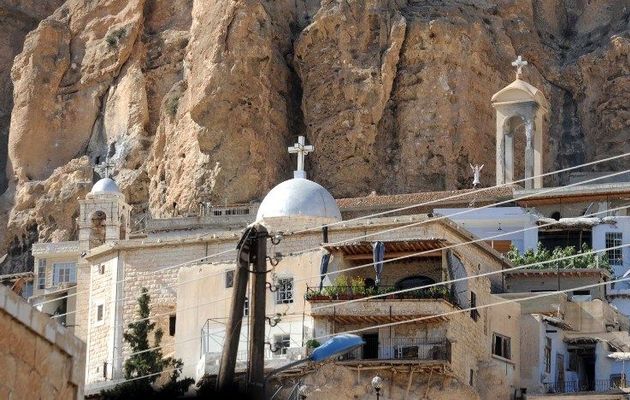 Syria: Islamist Rebels Abduct 12 Nuns from Orthodox Monastery in Maaloula
Damascus (AsiaNews) – Islamist rebels have kidnapped a group of nuns from the Greek Orthodox monastery of St Thecla (Mar Taqla) in Maaloula (north of Damascus). Mgr Mario Zenari, the Vatican nuncio in Damascus, confirmed the information after speaking with the Greek-Orthodox Patriarchate. Through the Vatican diplomat, the latter "calls on all Catholics to pray for the women religious."
"Armed men burst in the monastery of St Thecla in Maaloula this afternoon. From there, they forcibly took 12 women religious," Mgr Zenari said, citing a statement from Patriarchate. The group of Islamist rebels has apparently taken them to Yabrud, some 80 km north of the capital. Neither the nuncio nor the church Greek Orthodox Church know reason behind the kidnapping.
Islamist Rebels from the Free Syrian Army (FSA) had invaded the small town on 5 September after driving out regime troops with the support of al-Qaeda-linked al-Nusra Brigades. After taking control of the city, they went on a rampage against Christian buildings, killing three young Catholic men.
More than 3,000 people, the town's entire Christian population, fled their homes seeking refuge in Bab Touma, the Christian quarter of Damascus. Some found shelter with relatives in Lebanon or in local Greek-Catholic convents.
Only Muslims were left in town, plus 40 nuns at the St Thecla Monastery who stayed to help care for dozens of orphaned children.
[subscribe2]