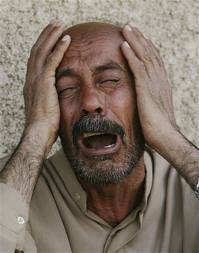 US drones strike in Pakistan, kill 3 'militants'
By BILL ROGGIO
November 29, 2013
The US killed three unidentified "militants" in a drone strike in Pakistan's Taliban-controlled tribal agency of North Waziristan yesterday. The strike is the third in Pakistan this month; the previous two attacks killed senior leaders in the Movement of the Taliban in Pakistan and the Haqqani Network.
The CIA-operated, remotely piloted Predators or the more deadly Reapers fired two missiles at a compound in the Miramshah area of North Waziristan last night, according to Dawn. Several strike aircraft were seen hovering over the compound before the strike.
The target of yesterday's strike was not revealed, and no senior Taliban, al Qaeda, or allied jihadist commanders have been reported killed at this time. The strike is said to have killed "a Pakistani citizen from Punjab Province" but his identity was not disclosed, The New York Times reported. According to AFP, the Punjabi Taliban was the target of the attack, and an operative known as Aslam or Yaseem, who was involved in the attack on the Mehran Naval Base in Karachi in May 2011, was killed.
18 abductees found 'executed' in Iraq
Eighteen men have been killed execution-style near Baghdad, just hours after they were abducted by uniformed gunmen. The grisly find caps a week in which nearly 200 people were killed across Iraq.
Iraqi police and medical sources said all the men had been shot in the head and chest. The bodies were found early Friday in an orchard at Mishahda, a mainly Sunni Muslim town 30 kilometers (20 miles) north of the Iraqi capital
Those killed included an army major, a school principal, two tribal chiefs and four policemen. It was not clear who was behind the abductions and killings.
Sources said the gunmen arrived in at least four off-road vehicles and told the victims and their families that they were suspects in a variety of investigations. The bodies were found a few hours later.
Surge in violence
More than 6,000 people have been killed across Iraq this year, making it Iraq's most violent since 2006-7 when Shiite and Sunni militiamen engaged in sectarian reprisal raids.
One in Every 10 People Killed in Syria's War Is a Child
Once again we're reminded that it's not just those who choose to put themselves in harm's way who die during a war.
After aerial bombardment by the Syrian government of rebel-held areas of Azaz in Aleppo governorate. (PHOTO: PUBLIC DOMAIN)
November 29, 2013 • By Michael Todd •
About one in 10 of the people who have been killed so far in the Syrian civil war are children. Of those 11,400 people under age 17 known to have died, the largest number—2,233—died in Aleppo Governate, Syria's most populous province and among its most restive. Nonetheless, on a per capita basis the worst place in Syria to be a child right now is Daraa (to the right of the Golan Heights and bordering Jordan), where one in 400 children have been killed during the uprising.
In comparison, just under one in a thousand children in Aleppo have died. So report Hamit Dardagan and Hana Salama ina new white paper from the NGO Oxford Research Group ("committed to the principle that every life lost to armed violence should be properly recognized").
Wave of violence leaves 52 dead in Iraq

A surge in violence that has left more than 600 people dead this month alone is fueling fears of sectarian war in Iraq.
Last updated: 29 Nov 2013 21:13
More than 6,000 people have been killed in Iraq this year [EPA]
A wave of violence has left 52 people dead in Iraq, most of whom were kidnapped, shot dead amd had their corpses abandoned, in scenes harking back to Iraq's sectarian war.
The killings come amid a surge in violence that has left more than 600 people dead this month, including several who were snatched from their homes, only for their bodies to be found later, raising fears Iraq is slipping back into the communal bloodshed that plagued it from 2005 to 2007.
More than 6,000 people have been killed this year, forcing Baghdad to appeal for international help in battling armed groups just months before a general election, as official concern focuses on a resurgent al-Qaeda emboldened by the war in neighbouring Syria.
Violence on Friday struck Baghdad and mostly Sunni Arab parts of the north and west, with shootings and bombings targeting civilians, local officials, security forces and even a brothel.
But the most troubling of the bloodshed came early on Friday morning, when authorities discovered thebodies of 18 men , including two tribal chiefs, four policemen and an army major, dumped in farmland near the Sunni Arab town of Tarmiyah, just north of Baghdad.
[subscribe2]