And the persecution of Christians in the Middle East continues.
This happened in the same city where Christians have had their meeting places of worship torched. The story of the girl getting tossed out of the window was buried at the bottom of the following article on Egyptian fundamentalists defying the ban on protests.
Meanwhile, Muslim residents of a village in southern Minya province attacked Christian homes, burning 10 houses and wounding 15 Christians, including a 15 year-old girl thrown from the third floor of a building, according to Ezzat Ibrahim, an activist who monitors minority rights.

Ibrahim said the attack was instigated by rumors of a love affair between a local Christian man and a Muslim woman – a factor that can often spark sectarian clashes.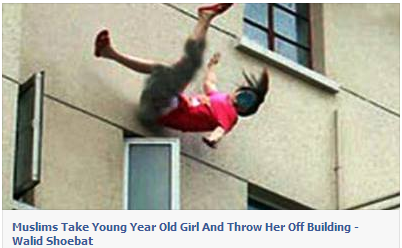 H/T: Islam Exposed (the truth about Islam) via Walid Shoebat  who provided picture (not from incident) and text also.
Egypt Islamists rally to defy protest law
Posted: Nov 29, 2013 1:46 PM FST Updated: Nov 30, 2013 2:48 AM FST
By TONY G. GABRIEL and MARIAM RIZK
Associated Press
CAIRO (AP) – Egyptian security forces firing tear gas and water cannons on Friday broke up anti-government demonstrations by Islamists defying a draconian new law restricting protests.
Authorities are seeking to put down unrest by both Islamists and secular activists as a government-appointed assembly tries to finish a final draft on an amended constitution by early next week. The draft has raised criticism from democracy advocates for increasing powers of the military and president.
Since a popularly backed military coup ousted Islamist President Mohammed Morsi in July, his supporters have been staging near-daily protests calling for his reinstatement. The rallies have often descended into street clashes with security forces or civilians.
To quash pro-Morsi rallies, which have persisted despite a heavy security crackdown, the military-backed government issued the law Sunday banning protests without a police permit. On Thursday, a student was killed when police put down a march by Islamists from Cairo University.