Holy haram Mr.President!
The German Islamization watch dog, Politically Incorrect grabs this one, looks like the Muslima let the moment get the best of her as well! Overt insensitivity by the well meaning Pres in spite of the smiles all around?
NOTE: If all the smiles were turned upside down we would be witnessing a deluge of calls for a formal apology by the members of the Ideology of Perpetual Outrage (IPO). Luckily for the German pres., they forgot their heads during the Western moment. More than likely they gave him a free pass for this:
President Joachim Gauck told Muslims in Germany, "Germany is our common land".
Fatwa-faux pas by German President Gauck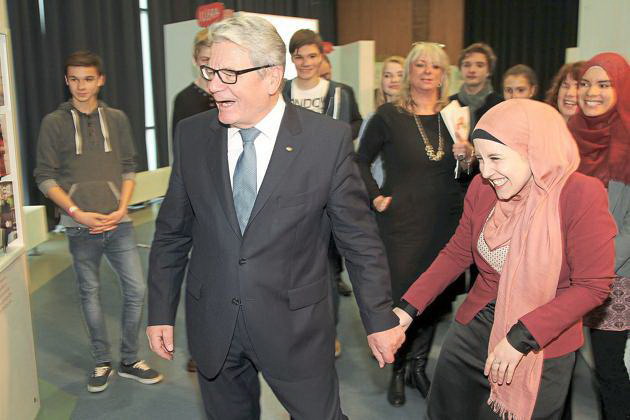 Yesterday, when pictures of German President Joachim Gauck's visit were broadcasted on the news programmes, we caught our breath for more than just a moment. He perkily took the hand of a Muslim girl dressed with a headscarf (photo) and dragged her towards the exhibits.
Yet, he should have known that, according to an Islamic judgement, a Muslim woman must not hold the hand of a stranger! In an act of pretended open-mindedness and delight in the Islamic enrichment, Gauck took her by surprise and got her into a very unpleasant situation. People don't do that Mr President, moreover, it doesn't express cultural sensitivity for our fellow Muslim master race citizens.
Source: PI