I've shown Syrian jihadis shoving executed people accused of siding with the Assad regime into sewers, this is more of the same, just that it's between themselves now.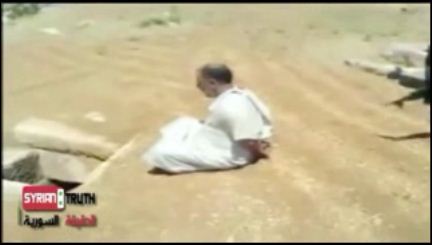 You can hear the voices of children in the background……..
Al Qaeda militants filmed executing rival Syrian rebel faction as the Islamists seeks to marginalise other groups
– Seven men filmed kneeling on the ground before being shot in the head
– Executions carried out by the Islamic State in Iraq and the Levant
– Group targeting more moderate rebel groups in civil war with Assad forces

Al Qaeda militants have been filmed executing seven men from a rival rebel Syrian faction as part of a campaign to marginalise other moderate groups in the civil war.
After executing rival rebel groups the bodies are thrown on trash heaps.
TT NOTE: Whenever the word "moderate" is used in describing anyone involved in the political reality of the Muslim Arab Middle East, it should always be followed with, "moderate to whom?"