As he should have.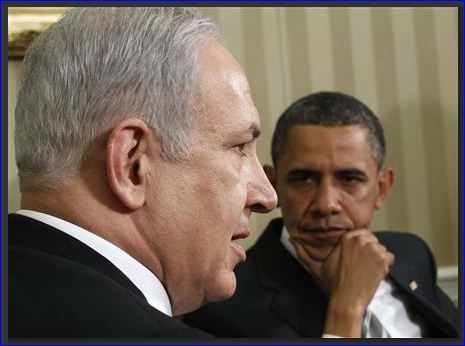 What Obama has done is to effectively place Israel within the constraints of international opinion with the UNSC's approval of the agreement. It places pressure on Israel not to act, or be in breach of an international agreement, but paradoxically frees the Jewish state to act unilaterally (most likely in conjunction with Sunni Gulf states supplying permission for fly overs and refueling), knowing full well that the time is short, the US does not have its back, and the agreement not worth the paper its written on.
Thank Obama for at least something.
What's also of merit to note, is the lack of concern by the faux humanitarian Left over what the Iranian achievement of the bomb would mean for the opposition is´nside Iran, for Iran will behave in much the same way towards its own people as the NORKS behave towards their own, and all under the blanket cover of its nukes.
SOURCE: NETANYAHU SCOLDED OBAMA IN PHONE CALL ON IRAN DEAL
"The prime minister made it clear to the most powerful man on earth that if he intends to stay the most powerful man on earth, it's important to make a change in American policy because the practical result of his current policy is liable to lead him to the same failure that the Americans absorbed in North Korea and Pakistan, and Iran could be next in line."
That was the message conveyed by Israeli Prime Minister Benjamin Netanyahu to President Barack Obama in a private telephone call Sunday to discuss the interim deal on Iran's nuclear program, according to a senior Israeli lawmaker in Netanyahu's ruling coalition, as reported by the Jerusalem Post.
The White House's own official statement on the telephone call made no mention of any disagreement being aired, merely referring to "their shared goal of preventing Iran from obtaining a nuclear weapon."
NOTE: Listen to Andy Bostom's excellent interview on the subject here on the Lars Larson show