So now we know why Europe rushed to back Obummer's plan.
For Eurocrats, if it sticks a finger in the Jews' eye, while paying off financially, then it's a plan worth approving. The mindset of these buffoons mirrors that of an earlier batch of ass-hats during the 30's, who called for rapprochement with Hitler's Nazi regime instead of demanding steely resolve.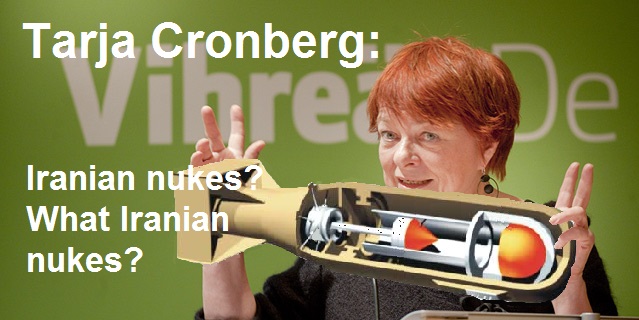 On the diplomatic front, European politicians, who are sympathetic to Iran's regime, started a push for Iran's reentry into political life. MEP Tarja Cronberg, chair of the European Parliament's Iran delegation and a member of the Foreign Affairs Committee and its subcommittee for Security and Defense, issued a statement on Sunday calling for "ending Iran's isolation."

The Finnish politician said, "This was a first step. Those against it are many: the hawks in the US Congress and the hardliners in the Iranian leadership, Israel and Saudi Arabia. But it was a necessary step, paving the way for mutual cooperative work, the actual stepping stones still ahead. However, it was in the interest of all parties to find a first agreement."
Experts: Europe will benefit economically from Iran accord
Europe has consistently been one of Iran's largest trade partners, with bilateral trade reaching over 20b. euros.
EU foreign policy chief Catherine Ashton (L) and Iranian FM Mohammad Javad Zarif. Photo: REUTERS
BERLIN – The European Union stands to reap major economic benefits from the interim agreement with Iran over resolving Tehran's nuclear program.
As part of the agreement between the major powers and Iran, key areas where sanctions relief is provided are the lucrative automobile trade and access to its foreign reserves.
Israeli and German foreign policy experts weighed in on the agreement for Europe.
The French-born Israeli Emmanuel Navon told The Jerusalem Post on Sunday, "This temporary relief will benefit European car manufacturers that currently export to Iran, such as BMW, Mercedes-Benz, Rover, Audi, Volkswagen, Renault and Peugeot."
Navon, who is the director of the Political Science & Communication Department at Jerusalem Orthodox College, added "According to the deal signed in Geneva, Iran will enjoy a relief package worth about $7 billion over the six months of the interim agreement.
This includes giving Iran access to about $3.6b. of its foreign currency holdings that are frozen in overseas bank accounts and some easing of restrictions on Iran's trade in petrochemical products, precious metals and parts for aircraft and cars."
Prof. Gerald Steinberg, a political science professor at Bar-Ilan University in Ramat Gan, told the Post that "the eagerness of the UK government to restore relations with the Iranian regime, and the rush by other European leaders to do the same in order to get lucrative contracts reflects both moral and strategic failure." He continued, "They are signaling a willingness to accept Iran's terms of reference including the ongoing support for mass terror and blatant violations of the NPT [nuclear proliferation treaty]. In this process, Europe will lose any residual leverage in the Middle East."