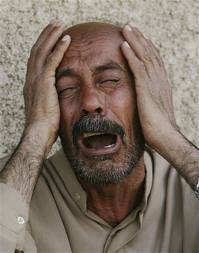 At least 23 killed, dozens hurt as explosions rock Iranian Embassy site in Beirut
Hussein Malla / AP
A man runs in front of a burned car near the Iranian Embassy in Beirut on Tuesday.
By Mustafa Kassem, Ayman Mohyeldin and Alastair Jamieson, NBC News
BEIRUT – An Iranian diplomat was among at least 23 people killed in a suspected twin suicide bomb attack at the Iranian Embassy in Beirut Tuesday, officials said.
An al Qaeda-linked terror group claimed responsibility – the latest sign that Syria's civil war is spilling over the border into Lebanon.
Burning cars, bodies and pools of blood littered the front of the embassy building, in the Hezbollah-dominated south of the city.
Iran's ambassador to Lebanon, Rokon Abadi, was uninjured, but in an interview with Lebanese television station MTV he said his country's cultural attache, Sheikh Ibrahim Al-Ansari, was killed.
Pakistan bomb: Seven Taliban killed in North Waziristan
At least seven Pakistani Taliban militants have been killed in a suicide attack in a tribal area near the Afghan border, intelligence officials say.
A local Taliban commander, Qari Saifuddin, was among those reported killed in the car bombing in North Waziristan, a militant stronghold.
It is unclear who was behind the attack near the town of Mir Ali.
Correspondents say the blast comes amid rifts in the Pakistani Taliban and other militant groups in the area.
Last month Pakistan Taliban leader Hakimullah Mehsud was killed in a US drone strike in North Waziristan.
Qari Saifuddin was travelling in a double-cabin pick-up truck with seven others when an explosives-laden Toyota station wagon rammed into it, reports said.
Gunmen kill Shia director of Pakistan university
AFP | Nov 19, 2013, 12.57 PM IST
LAHORE: Unidentified gunmen riding a motorcycle on Tuesday killed a senior Shiadirector of a university along with his driver in Pakistan's central Punjab province, officials said.
In an apparent targeted sectarian attack, Syed Shabir Hussain Shah, director of student affairs at a university in the eastern city of Gujrat city in Punjab province, was attacked while on his way to the campus.
"Gunmen riding a motorbike sprayed bullets on his vehicle when he was about to reach the university campus in (the) morning. His driver was also killed in the attack," Ali Nasir Rizvi, the district police chief, said.
"At the moment, we don't know about the numbers of the attackers, but the incident looks like a targeted killing," he said.
Egypt: '12 Soldiers' Killed In Car Bomb Attack
At least 12 Egyptian soldiers have been killed and 24 wounded in a car bomb attack in Sinai, according to Sky sources.
The blast happened near the city of El-Arish and was one of the deadliest attacks in the Sinai Peninsula since al Qaeda-inspired militants began stepping up assaults following the army's ousting of Islamist President Mohamed Morsi.
The attack came as one person was killed and dozens more injured during clashes between opponents and supporters of Egypt's military-backed regime in Cairo's Tahrir Square on Tuesday.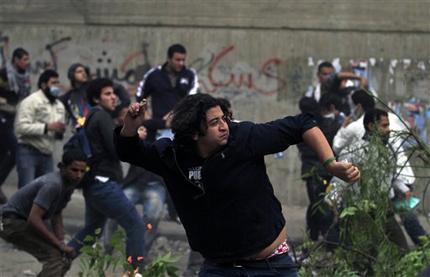 (File photo)
Egypt police storm Tahrir Square, 1 killed
AFP | Nov 20, 2013, 07.24 AM IST
CAIRO: At least one person was killed when Egyptian riot police stormed Cairo's Tahrir Squarelate Tuesday to disperse stone-throwing protesters, a health ministry official said.
Police backed by armoured vehicles fired tear gas and shots after clashes in the square to scatter protesters who had gathered to mark the anniversary of deadly 2011 demonstrations.
One man was killed when he was struck by birdshot during the clashes, head of emergency services Ahmed al-Ansary told AFP. It was not immediately clear if he was a protester.
The crowds were marking the anniversary of 2011 protests against the military, which took power between president Hosni Mubarak's overthrow and his now deposed successor Mohamed Morsi's electionin June 2012.
Former German football star is killed 'fighting for al-Qaeda in Syrian civil war'
Burak Karan killed in a bomb attack by Assad forces in Syria

Footballer played with stars like Kevin-Prince Boateng and Sami Khedira

Made appearances for under-16 and under-17 German national side

Gave up career aged 20 and joined Islamists fighting in civil war
By ALLAN HALL BERLIN
PUBLISHED: 09:52 GMT, 19 November 2013 | UPDATED: 12:51 GMT, 19 November 2013
Former German under-17 international Burak Karan has been killed while fighting for al-Qaeda in northern Syria
A former rising star of German football who played for the under-17 national squad has been killed after he abandoned his career to fight for al-Qaeda in the Syrian civil war against the Assad regime.
Burak Karan played alongside famous names such as Sami Khedira, Kevin-Prince Boateng and Dennis Aogo.

But five years ago he quit the game he loved and his country to become a radicalised Jihadist.
On October 11, aged just 26, he was blown to smithereens by a bomb dropped by an Assad air force jet on the village of Azaz, near the Turkish border.

An image of him clutching a Kalashnikov assault rifle appeared in tribute to him at the weekend on social networking sites.
The Turkish-German player-turned-rebel 'fought like a lion', according to his commanders, who said: 'It was a pleasure to fight alongside him.'
Karan made his debut in the under-17 team in 2003 and trained with giants of the Bundesliga including Leverkusen, Herthas BSC Berlin, Hamburger SV and Hanover.

He was described as a 'talent with great perspective' and was a close personal pal of Boateng.
Thomas Hengen, Karan's last coach at Alemannia Aachen said: 'He could have lived safely doing the job of a soccer player.'