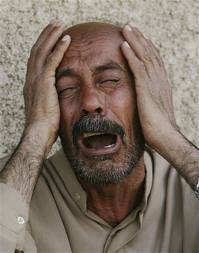 Eight police killed in south Yemen ambush
(AFP) – 14 hours ago
Aden — Gunmen ambushed and killed eight policemen on Monday near a gas terminal in southern Yemen, a security official told AFP.
The attack took place as the officers were driving to a security checkpoint near the Balhaf terminal, in the southern province of Shabwa, the official said.
"Armed men in two cars opened fire on the policemen, killing them on the spot," he said. He was unable to identify the assailants or explain their motives.
Earlier Monday, a special forces officer was abducted by armed men northeast of Balhaf, and his body was later found to the west. He had been shot three times.
The corpse was found not far from where the eight policemen were killed, another security source said.
Top Syria rebel killed as Russia pushes peace
BY AGENCE FRANCE-PRESSE
POSTED ON 11/19/2013 8:47 AM  | UPDATED 11/19/2013 8:48 AM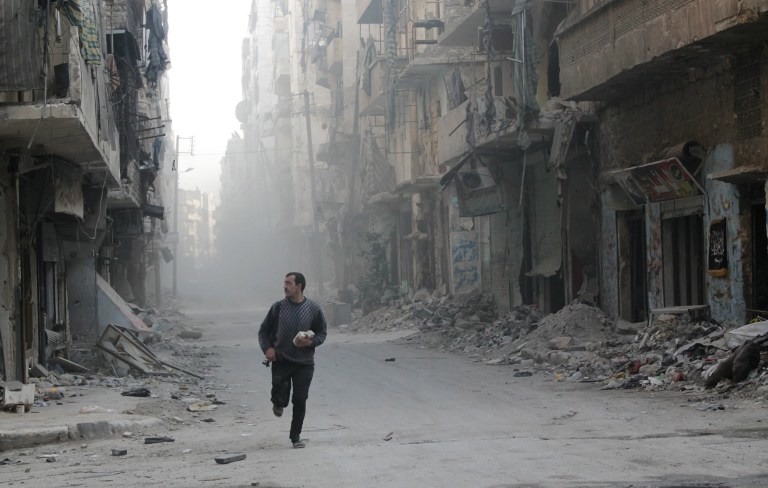 RUNNING FROM DANGER. A rebel fighter from the Free Syrian Army runs in a street of Aleppo's Salah al-Din neighborhood during fighting against Syrian government forces on November 18, 2013. AFP / Karam al-Masri
DAMASCUS, Syria – A charismatic Islamist rebel leader from Syria has died of wounds suffered in a regime air strike as a government delegation held talks in Moscow on Monday, November 18, on elusive peace talks.
Syrian rebels and activists reported the death of Abdel Qader Saleh, chief of the rebel Liwa al-Tawhid Brigade, after an air raid in the Aleppo area last week.
His death is a blow to Islamist rebels, particularly in the Aleppo region, where Saleh came from and fought and where the regime has made a string of recent advances.
Liwa al-Tawhid announced the 33-year-old's death on its official Facebook page in news confirmed by the Britain-based Syrian Observatory for Human Rights.
"Abdel Qader Saleh, known as Hajji Marea, died of wounds he sustained last Thursday when warplanes targeted the Liwa al-Tawhid leadership," an Observatory statement said.
8 people killed, several injured in Iraq violence
An Iraqi looks at a burnt vehicle after a car bomb attack in the northern city of Kirkuk on November 14, 2013.
Mon Nov 18, 2013 10:37PM GMT
At least eight people have been killed and several others wounded in a fresh wave of violence, including bombings and gun attacks, across Iraq.
On Monday, four people were killed in shooting incidents in and around the city of Baquba, situated some 60 kilometers north of the capital Baghdad.
On the same day, violence in the central city of Hilla, Baghdad, and the towns of Madain and Abu Ghraib located near the capital killed four people.
Reports also say that thirteen people were injured after a series of coordinated bombings hit the northern city of Mosul.
Moreover, a city council chief was wounded in a bombing in Tikrit.
No group has claimed responsibility for the attacks, but systematic bombings are a favorite tactic of al-Qaeda-linked groups, who seek to destabilize the country.
More here. (Warning: Iranian Press TV)
Two children killed in bomb attack in S. Kordofan: SPLM-N
November 18, 2013 (KHARTOUM) – Two children were killed and another injured following a bomb attack by the Sudanese army (SAF) on South Kordofan's Buram county in the Nuba Mountains on Sunday.
The attack comes as negotiations between Sudan's ruling National Congress Party (NCP) and the rebel Sudan People's Liberation Movement-North (SPLM-N) over the terms of a planned polio vaccination campaign for children in rebel-held areas remains deadlocked.
The SPLM-N, which is leading an insurgency against the Khartoum regime, said the latest attack showed children were at more immediate risk of bomb attacks than the threat of polio.
The attack was captured on video and shows a Mig-24 aircraft approaching the village prior to the attack. In disturbing footage of the aftermath villagers are shown weeping inconsolably on the ground, while their homes burn around them.
At one point villagers lift a pink cloth from a stretcher to reveal the bloodied bodies of the children lying side by side.
The video also includes footage of a huge crater where the bomb landed.
(Tripoli) – Militias from Misrata fired assault rifles, machine guns, and heavy weapons at overwhelmingly peaceful protesters in Tripoli on November 15, killing several people. Ensuing clashes between armed groups and militias left 43 people dead and at least 460 wounded. State security forces present at the initial protest apparently failed to protect protesters or to arrest and disarm the militias.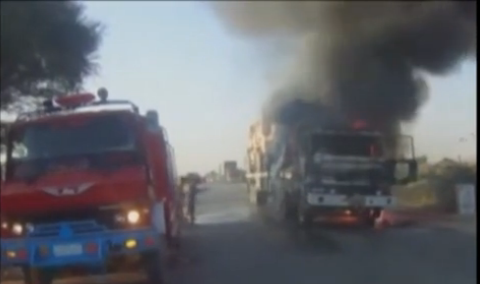 Two NATO trucks attacked in Pakistan, driver killed
Last Updated: Tuesday, November 19, 2013, 00:14
Islamabad: Suspected militants attacked two NATO supply trucks in the restive Balochistan province of southwest Pakistan today and set a vehicle on fire after killing its driver.
The attack occurred in Naseerabad district, 400 km southeast of provincial capital Quetta.
At least gunmen riding motorcycles fired at the two trucks, killing a driver. They then set a truck carrying a heavy NATO vehicle on fire.
The trucks, coming from Afghanistan, were headed for Karachi.