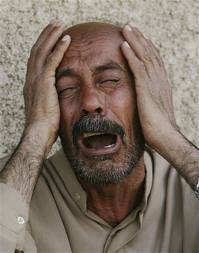 Four police killed in Iraq attacksNovember 16, 2013 04:18 PM
An Iraqi policeman uses a bomb detector to search Shiite worshipers near the holy shrine of Imam Hussein during "Muharram," an important period of mourning for Shiites, in Karbala, Iraq, 50 miles (80 kilometers) south of Baghdad, Tuesday, Nov. 12, 2013.(AP Photo/Hadi Mizban)
BAGHDAD: A series of attacks in Baghdad and north Iraq left four policemen dead and a dozen people wounded on Saturday, in the latest in a months-long surge in nationwide bloodshed.
The spike in violence, which has left more than 5,600 people dead so far this year, has forced Iraq to appeal for international help to combat militancy with just months to go before its first general election in four years.
Saturday's violence targeted police in the capital and the main northern city of Mosul.
In Baghdad, two separate bombings targeting police patrols killed three policemen and wounded 11 other people, security and medical officials said.
And in Mosul, militants opened fire on a police checkpoint, killing one policeman and wounding another.
Top Iraqi militia commander killed in Syria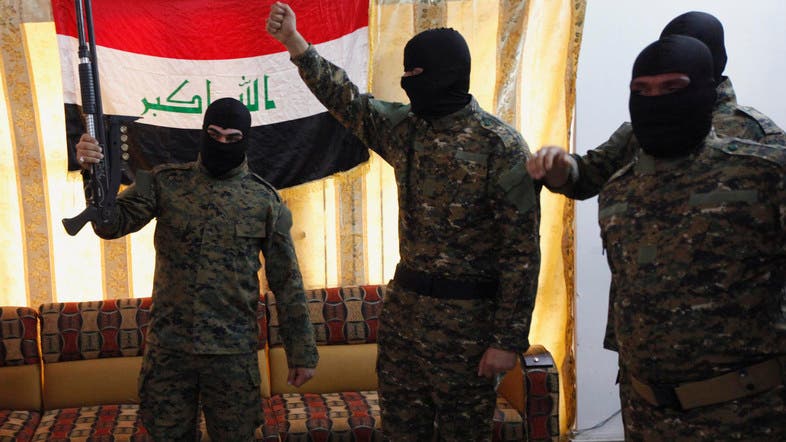 Fighters from Iraq's Islamist Shi'ite militias celebrate before departing to Syria from Baghdad, June 11, 2013. (Reuters)
Staff writer, Al Arabiya News
Friday, 15 November 2013
A top Iraqi militia commander fighting in Syria alongside President Bashar al-Assad's forces has been killed and his body arrived in Iraq's Negef governorate on Thursday, Al Arabiya television reported.
The Syrian Revolution General Commission (SRGC) said Abbas Hussein Ridha, a field commander of Abou Fadl el-Abbas brigade, was killed in a heavy battle with rebel forces outside Damascus.
The SRGC added that several Iranian soldiers and 20 Syrian regime fighters were captured in the fighting.
Abou Fadhl el-Abbas brigade is one of several foreign militias fighting alongside Assad's forms in Syria and is believed to have been involved in the Syrian civil war since 2012.
The Lebanese Hezbollah group has also been actively involved in Syria. Its chief Hassan Nasrallah said on Thursday that he would keep his forces in the country "as long as they are needed" by President Assad.
Egypt clashes kill 1
2013-11-15 22:24
Egyptian riot police try to quell clashes between opponents and supporters of President Mohammed Morsi in the Mediterranean coastal city of Alexandria. (AFP /STR)
Clashes between supporters of toppled leader Mohammed Morsi and residents in Alexandria killed a 16-year-old boy, the Interior Ministry said in a statement. It said Ihab Selim suffered a gunshot wound to the chest in the fighting and it was unclear who fired the shot.
The statement said police arrested seven Morsi supporters over the clashes.
A coalition supporting Morsi also peacefully protested at the presidential palace in Cairo. The military overthrew Morsi and his Muslim Brotherhood-backed government in a popularly supported coup 3 July.
Supporters held near-daily protests since Morsi was toppled, with some demonstrations ending in bloody clashes with security forces or opponents.
Deaths at Libya anti-militia protest in Tripoli
The BBC's Rana Jawad: "The protest began peacefully"
At least 31 people have been killed and 235 injured in clashes in the Libyan capital, Tripoli, officials say, after militiamen opened fire on protesters.
The demonstrators had marched to the headquarters of the Misrata militia to demand that it leave Tripoli.
Hours after the incident, armed men returned to storm the compound, where militiamen are still holed up.
The Libyan government has been struggling to contain numerous militias who control many parts of the country.
This is a serious development in the capital that is reminiscent of events in Libya's second city, Benghazi, earlier this year. when anti-militia protesters attacked bases and more than a dozen people were killed.
One of the key issues, according to many in Tripoli, is that large numbers of militias in the city are from brigades from other cities, like Misrata – at the centre of today's confrontation – and Zintan for example.
Unlike last week, where the fighting was between two rival militias, the implications of any armed group facing off with civilians are potentially dangerous here because the majority of civilians still have weapons at home.
If officials again react passively to the latest incident, it may fuel a cycle of revenge attacks which could spiral out of control.
Prime Minister Ali Zeidan gave a televised address in which he said all militias had to leave Tripoli without exception.
However, it is unclear how the authorities plan to dislodge them, the BBC's Rana Jawad reports from Tripoli.
Ethiopians 'surrender' in Saudi after clamp down
Ethiopia has complained about the treatment of its citizens in Saudi Arabia
About 23,000 Ethiopians have surrendered to Saudi authorities since a clampdown on illegal migrant workers began in the oil-rich kingdom last week, officials have said.
The clampdown has led to clashes in the capital, Riyadh, with at least five people killed.
Saudi authorities say they are trying to reduce the 12% unemployment rate among native Saudis.
An estimated nine million migrant workers are in Saudi Arabia.
They are said to make up more than half the workforce, filling manual, clerical and service jobs.
Manfouhah rioters killed Sudanese teen, says envoy
 
Saudi troops pray along a road in Manfouha, Riyadh, on Thursday as they watch the district for rioters. (Reuters)
RIYADH: GHAZANFAR ALI KHAN
Published — Friday 15 November 2013
Riyadh police are investigating the death of a 15-year-old Sudanese boy, who was killed during riots in the notorious Manfouha district of Riyadh on Wednesday night.
"The boy, identified as Abdulmonim M. Talha, seems to have been harassed and pursued by the rioters before being killed," said Sudanese Ambassador Abdel Hafiz Ibrahim.
"The gangs of hooligans … are responsible for the killing of Talha," he said.
The ambassador asked his countrymen to remain calm and assured them of the embassy's full support.
Members of the large Sudanese community in the capital expressed outrage at the teenager's killing. They demanded deterrent punishment for the rioters.
"Talha's body is being kept in a hospital morgue," said the ambassador. "We are working closely with the Saudi officials and the victim's relatives to determine how the boy was done to death."
6 Killed in Afghanistan Suicide Blast
November 16, 2013
Afghan officials say at least six people were killed and 22 wounded in a suicide car bombing in the capital, Kabul.
The attack occurred near the site of a planned meeting where thousands of Afghan political and tribal leaders will discuss a security agreement with the United States.
An agreement would let U.S. troops remain in Afghanistan after the final withdrawal of international combat troops at the end of 2014.
Officials say at least one soldier was killed in Saturday's attack, which targeted an Afghan army vehicle. Civilians were also among the casualties.
There was no immediate claim of responsibility.