How about all that cash you drained from its coffers you jerk.
These EU hacks rob national sovereignty from member states, plunder each state's reserves and resources to cover past failed policies, and dare stand in judgement? EU hacks like Olli Rehn deserve an orange jump suit and lots of time to contemplate their criminal actions.
NOTE: Farcical YLE just pimps the EU line. Sadly The Finns party believes it (the EU) can be reformed, and that's a tragic miscalculation, you can't reform a political entity that contains nothing within its system that can be used to right itself. It's like Obamacare, a corrupt, defunct, pile of crap needing to be jettisoned, not salvaged.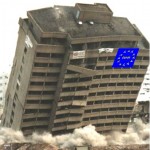 EU Commission slates Finnish budget
The EU Commission has finalised its inspection of member nations' budgets and Finland has not escaped criticism.
The Commission claims that Finland's budget proposal for next year bears a notable risk of failing to meet economic objectives in the mid-term. In this regard, the Nordic nation has been lumped in the bad books alongside Spain, Italy, Luxembourg and Malta.
The main sticking point for Finland is the proposed increase of public debt above the EU's 60 percent ceiling.
Meanwhile, EU Commissioner Olli Rehn has warned that the Spanish and Italian situation looks particularly worrying.
Only Estonia and Germany have found themselves in the Commission's good regard. YLE