Once again the bloody borders of Islam reaches out and touches people.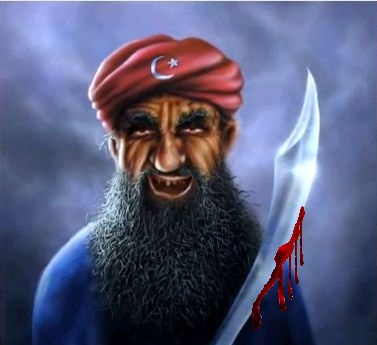 The key point worth noting, is that the Muslim percentage of the population in this predominantly Christian nation is 15%. The blood letting at the hands of that minority percentage now exceeds the observations of Dr.Peter Hammond noted in his article What Islam is. Perhaps the infusion of jihadis from the north into the unrest is turbocharging the small Muslim minority to act as if it's in the 50% percent range in the demographics.
'Risk of Genocide' in Central African Republic
The United Nations warns there is a risk of genocide in the Central African Republic.
The country has been in turmoil since Islamists ousted President Francois Bozize in March.
In towns where Christians and Muslims used to live in peace and do business together, Islamists are now inciting violence between the two communities.
Is the conflict turning into a religious war? George Thomas, senior international correspondent, answers this and more on CBN Newswatch, Nov. 5.
In the town of Bossangoa, the birthplace of the former president, thousands of Christians have fled their homes after attacks by rebels. Many have taken refuge in the Catholic Mission in the center of town, afraid to venture out into the street or return to their homes.
Human rights groups have accused rebels of widespread looting, killing, rapes, and recruitment of child soldiers.
John Ging, U.N. director of humanitarian operations, described the situation as "chaotic."
H/T: Israel, the Jewish Community, and the Middle-East Crisis Via Jihad Watch and Atlas Shrugs