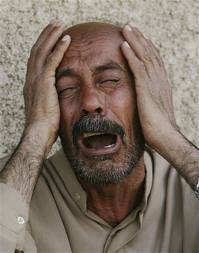 Suicide bomber attacks Iraqi Shi'ite pilgrims, killing 16
By REUTERS
11/14/2013 11:55
BAGHDAD – A suicide bomber blew himself up on Thursday during a Shi'ite Muslim religious ritual in the eastern Iraqi city of al-Sadiya, killing at least 16 and wounding 65, a senior local official said.
No group immediately claimed responsibility for the attack, which came on the final day of Ashura, a 10-day Shi'ite ritual.
Mayor gunned down, 24 others killed across Iraq
From Mohammed Tawfeeq, CNN
November 13, 2013 — Updated 1834 GMT (0234 HKT)
Baghdad (CNN) — The mayor of the Iraqi city of Falluja was shot to death while bombings there, in Baghdad and in another city killed 24 more people Wednesday, police reported.
Adnan al-Jalbawi, Falluja's mayor for the past three years, died in a burst of gunfire while visiting a sewage pumping station, police officials in Anbar province reported. One of the mayor's bodyguards was critically wounded as well, the officials said.
There was no immediate claim of responsibility for the attack, police said. Iraq's Shiite-led government has blamed other recent killings on Sunni extremists loyal to al Qaeda in Iraq, and the Anbar provincial council voted to fire police commander Gen. Hadi Azraiej on Wednesday due to the deteriorating security situation there.
Meanwhile, separate attacks in Baghdad and Baquba, to the north, each killed 10 people, police said. The Baquba bombing targeted pilgrims gathering for the Shiite religious commemoration of Ashura, the holiest day of the Shiite calendar.
Report: 4 Palestinian refugees killed in Syria
Published yesterday (updated) 13/11/2013 21:38
(MaanImages/file)
BETHLEHEM (Ma'an) — Four Palestinians were killed during clashes in a Syrian refugee camp Wednesday, a Syria-based Palestinian group said.
According to a report by the Workforce for Palestinians in Syria, four refugees living in Yarmouk camp died as a result of a bombing that targeted the al-Ouroba neighborhood.
Two of the bodies were identified as Hassan Awwad and Ibrahim Tu'ma, the report said.
Refugees in Yarmouk camp were reportedly awaiting the delivery of food and medical aid from UNRWA, the United Nations agency for Palestinian refugees, at the time of the attack.
Meanwhile, houses were destroyed in an attack on Khan al-Sheikh refugee camp southwest of Damascus, the Workforce for Palestinians in Syria said in a separate report.
Shellfire kills 11 people in Syria
Militants preparing to launch mortar rounds in Syria (file photo)
Wed Nov 13, 2013 2:16PM GMT
At least 11 people have been killed in Syria by shellfire from militants fighting against the government of Syrian President Bashar al-Assad.
On Wednesday, a mortar round slammed into a mainly-Christian area of the capital Damascus, killing two people and wounding several others.
Nine other people were killed in a similar attack in the western city of Homs.
Moreover, a mortar attack targeted the al-Hal market in the heart of the capital, wounding several people and causing damage to shops there.
On Tuesday, 16 people were wounded after foreign-backed militants fired mortar shells at residential areas in Damascus.
Islamic Front official is killed in Libya
Islam Times – Islamic Action Front official Saadeddine Ghiyyeh was killed on Tuesday after sustaining gunshots wounds to his head.
Masked men opened fire at Ghiyyeh in al-Bahsa in the northern city of Tripoli, the state-run National News Agency reported.
According to the agency, that two men on a motorcycle shot Ghiyyeh, who was in his car, in the head. He was driven to the hospital in a critical condition with media outlets reporting his death later on.
Egypt Acts to End Post-Morsi State of Emergency
Supporters of Egypt's ousted president Mohamed Morsi stand on a bridge as they march during his trial in Cairo, Egypt, Nov. 4 2013.
November 12, 2013
CAIRO — Egyptian authorities acted to end a three-month state of emergency on Tuesday, a step that may help the army-backed government restore a semblance of normalcy after turmoil ignited by the military overthrow of president Mohamed Morsi.
But as the authorities moved to cancel the exceptional powers, the government edged a step closer to passing a law regarded by activists and human rights groups as a threat to the right to protest.
The government imposed the emergency and nightly curfews on Aug. 14, when security forces forcibly dispersed two Cairo sit-ins by Morsi supporters, touching off the worst bout of domestic bloodshed in Egypt's modern history.
7 Taliban militants killed in Afghanistan Kandahar
Former Taliban fighters carry their weapons prior to handing them over as they join a government peace and reconciliation process at a ceremony in Jalalabad on October 27, 2013.
Wed Nov 13, 2013 10:59AM GMT
At least seven Taliban militants have been killed in Afghanistan's southern province of Kandahar after clashes erupted between militants and Afghan police forces in the region, Press TV reports.
The incident took place on Wednesday morning after the militants attacked a police checkpoint in Rigistan district, Kandahar police spokesman Zia Dawrani said.
Dawrani added that the militants had crossed the Pakistani border into Afghanistan and that one police officer was injured in the two-hour battle.
Afghanistan's Defense Ministry also said in a statement that a weapons arsenal was discovered in Kandahar province, adding that no arrests have been made in connection with the issue.
More here. (Iranian propaganda rag)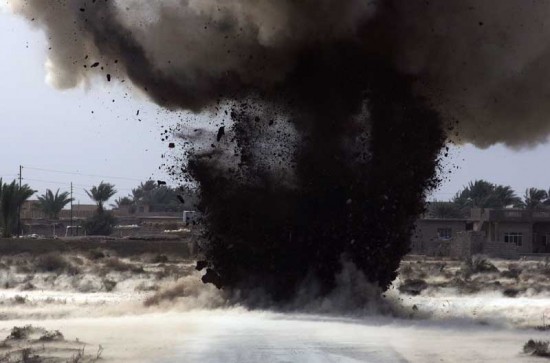 Roadside Bombs Kill 3 Boys in Afghanistan
KABUL, Afghanistan November 13, 2013 (AP)
Afghan officials say roadside bombings in the restive south and west have killed three boys.
One of Wednesday's attacks took place in western Farah province, where two boys died.
A provincial governor's spokesman, Abdul Rahman Zhawandai, says a bomb exploded outside a school just as the boys came out. That explosion also wounded three students.
The third boy was killed in the southern Uruzgan province, a Taliban stronghold. Police spokesman Farid Ayal says the teenager was returning home on his bicycle when the explosion occurred.
No one has claimed responsibility for the attacks but Taliban militants routinely use roadside bombings to target Afghan security forces, though such bombs also often kill civilians.