Lenin shocked to find his paper still comes on time!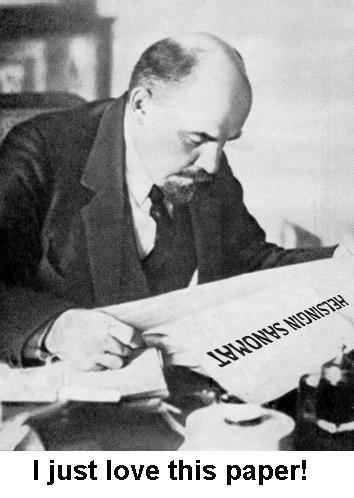 The mainstream media, or 'legacy media', is an abject failure. Though still necessary (if they properly do their jobs) they are no longer seen as fulfilling the role that they claim for themselves. They've become cheerleaders of certain politically correct policies, highly uncritical of the EU, which means missing one mega story after the other concerning its corruption and malfeasance, and that's just for starters.
NOTE: Not very many people find the MSM, in Finland or otherwise, relevant and trustworthy. I offer YLE as the prime, shining example of mediocrity, and a the tax payers expense. If they spent more time chasing down the truth, instead of politicized pablum, they might, at least some would, be able to win back their readership. what will happen is that the bigger papers will whine and get bailed out by the taxpayer.
High distribution costs hit legacy print media
Traditionally Finnish newspapers have been delivered to subscribers in time for them to enjoy with their breakfast. That is becoming more difficult to sustain as subscriptions and revenues fall.
The trend towards digital communication has revolutionised two industries: the postal service and the newspaper business. Customers are increasingly moving from written letters to email, while many readers now prefer to get their news online. Publishers have also been hit by the imposition of VAT on newspaper sales, which were previously zero-rated for sales tax.
Distribution is one of the major costs facing the newspaper industry as it struggles to adjust to a new media landscape. Declining subscriber numbers are making it more expensive to deliver newspapers, particularly in sparsely populated, rural areas.