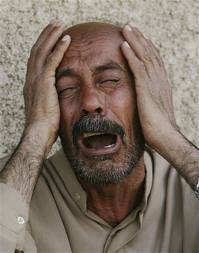 Six children killed in Syria mortar attack
Six children were killed and six elders were wounded Saturday when rebels fired a rocket at a district in the northern city of Aleppo, the state-run SANA news agency reported.
The slain children lost their lives when the rebels fired a rocket at the Ashrafieh district of Aleppo, Xinhua reported citing SANA news agency.
The attack came as the Syrian troops were progressing in the southern countryside of Aleppo, in a bid to dislodge the rebels from the key northern province of Aleppo.
Syria rebels recapture army base near Aleppo
Opposition fighters held the site for nine months until Friday when government forces briefly pushed them out.
Last updated: 10 Nov 2013 05:31
The clashes in Aleppo killed at least 53 people as Syrian rebels fought to regain control of the base [Reuters]
Syrian opposition fighters retook a strategic base in the northern Aleppo province on Saturday, as shelling killed at least 11 people in nearby Aleppo city.
The Syrian Observatory for Human Rights said that the fighters, including some from two al-Qaeda affiliates, launched a counterattack against regime forces after they captured parts of the 80th Brigade base on Friday.
Observatory director Rami Abdel Rahman said the clashes left at least 53 people killed – 33 rebels and 20 government soldiers.
In Aleppo city, the Observatory said shelling by regime forces killed at least 11 people, including four children.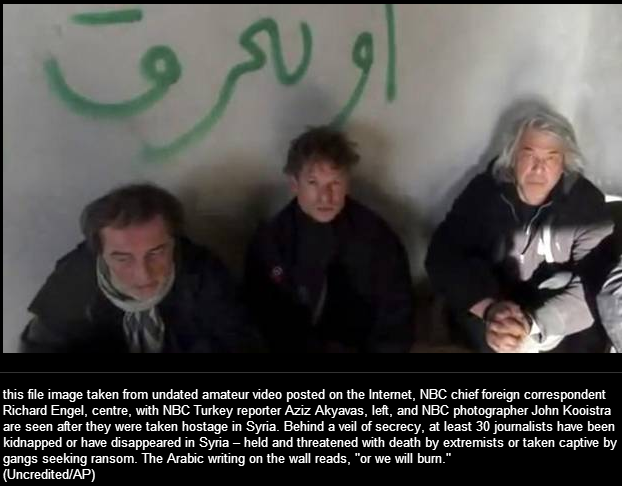 Abductions of journalists covering Syria's civil war largely unreported
ZEINA KARAM
BEIRUT — The Associated Press
Published 
Behind a veil of secrecy, at least 30 journalists have been kidnapped or have disappeared in Syria — held and threatened with death by extremists or taken captive by gangs seeking ransom.
The widespread seizure of journalists is unprecedented, and has been largely unreported by news organizations in the hope that keeping the kidnappings out of public view may help to negotiate the captives' release.
4 killed in Egypt protests, including a child
The assertion was challenged by the Interior Ministry, however, which declared that only one person – a 12-year-old child – had been killed and another three injured
A coalition of Islamist groups that call for the reinstatement of ousted President Mohamed Morsi has asserted that at least four protesters were killed in clashes that accompanied countrywide demonstrations on Friday, while authorities say only one death was reported.
Friday's rallies – held under the banner "Women are a redline" – were called by the National Alliance for the Defense of Legitimacy, a Muslim Brotherhood-led coalition of pro-Morsi Islamist groups, to protest what it describes as recurrent police violence against women and minors.
According to an alliance source, at least three protesters were killed and 50 injured in clashes between Morsi supporters and opponents in the capital's Omraniya district.
The assertion was challenged by the Interior Ministry, however, which declared that only one person – a 12-year-old child – had been killed and another three injured.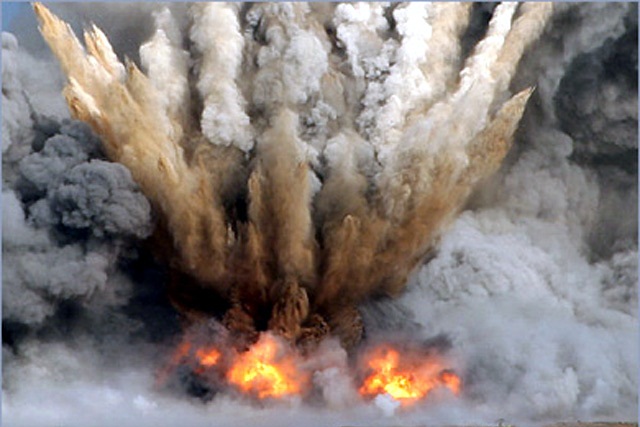 Drones kill five al-Qaeda suspects in southern Yemen
SANAA Fri Nov 8, 2013 4:35pm EST
(Reuters) – Five suspected al Qaeda fighters have been killed by two drone strikes in Yemen's southern province of Abyan, the country's interior ministry said on Friday.
A ministry statement said the militants were killed on Thursday but did not say whether the drones were launched by Yemen or the United States.
However, local officials in Abyan, which was a stronghold for Yemen-based al-Qaeda in the Arabian Peninsula (AQAP) and other militant groups during an uprising that ousted veteran President Ali Abdullah Saleh last year, told Reuters the drones were American.
AQAP is regarded by the United States as one of the most active wings of the militant network, posing a serious threat to Western interests including oil tanker traffic in the Gulf.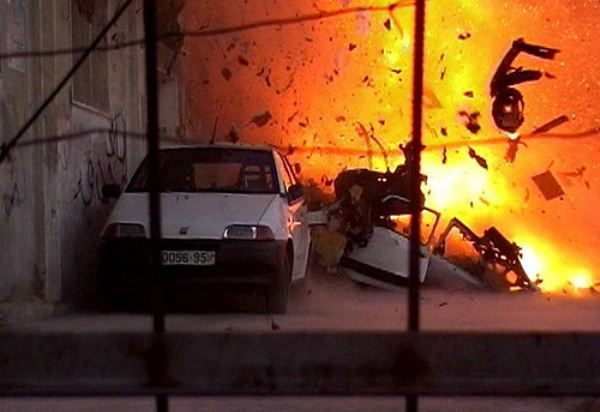 (File photo)
24 Killed, 84 Wounded in Iraq Bombings Targeting Worshippers, Shoppers
by Margaret Griffis, November 08, 2013
In Mosul, 12 people were killed on a commercial street during a late-day bombing that also left 56 wounded. Bombs at two homes left five wounded.
In Baghdad, two bombs planted near a mosque left five dead and 15 wounded in Safarart.
A landmine planted in the middle of an agricultural road in Sinjar killed two soldiers and wounded two more.
Two policemen were killed and two more were wounded when gunmen shot up aFalluja checkpoint.
In Garma, a sticky bomb killed a Sahwa member and wounded a civilian.
Gunmen killed a civilian and wounded a soldier in separate attacks in Baquba.
A sticky bomb wounded a policeman in Samarra.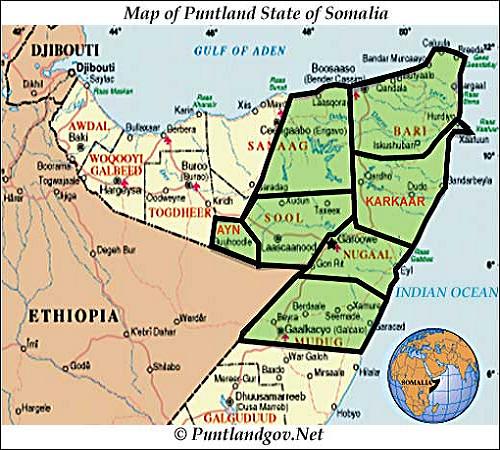 Militants Attack Somalia Prison; 3 Guards Killed
MOGADISHU, Somalia November 9, 2013 (AP)
By ABDI GULED Associated Press
A government official says that about 20 armed Islamic extremists attacked a prison in northern Somalia in an attempt to free prisoners.
An official in the semi-autonomous region of Puntland said on Saturday that prison guards repelled the attack on Friday night in which two guards were wounded.
The official said al-Shabab militants were suspected of carrying out the attack in Bossaso. The official insisted on anonymity because he's not an official spokesman.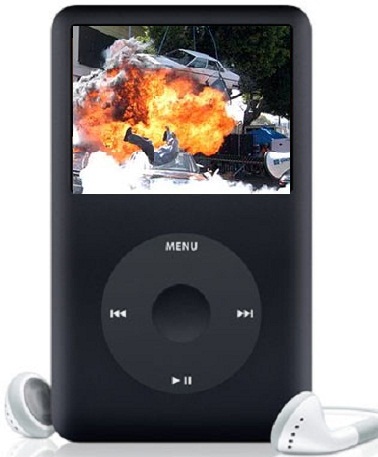 Somalia: 11 dead in Mogadishu hotel car bombing
AFP Mogadishu, November 09, 2013
Around 11 people were killed on Friday in a car bomb attack against a top hotel in Somalia's capital Mogadishu, police said. Police and security forces immediately sealed off the area around the Maka al Mukarama hotel, situated along a busy Mogadishu street and popular with politicians and the elite.
"Some 11 people were killed and a dozen more injured," police official Anshur Nur told AFP close to the scene of the blast.
"I could see several burning cars, dead and injured people on the ground," he said.
Mogadishu is frequently targetted with suicide and car bombings carried out by al-Qaeda-linked Shebab rebels, who are fighting to overthrow the country's internationally-backed government.
A Somali government official, who asked not to be named, said the attack bore all the hallmarks of Shebab, a group which still controls large parts of rural southern Somalia.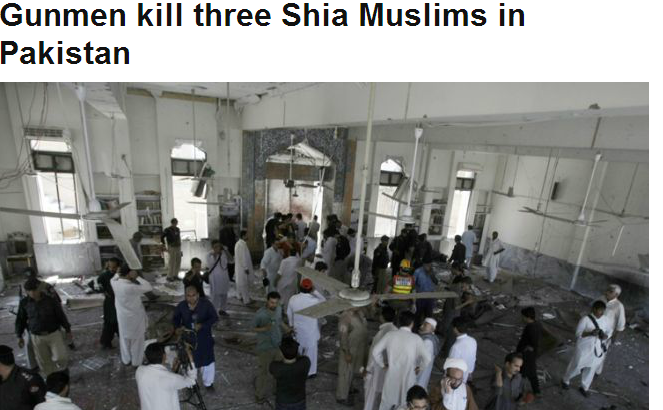 Unidentified gunmen have attacked two separate Shia mosques in eastern Pakistan, killing three people.
The deadly attacks took place on Saturday in the city of Gujranwala, situated east of Lahore, the provincial capital of Punjab.
According to police, the assailants stormed the mosques during morning prayers and opened fire on the worshippers before fleeing the scene.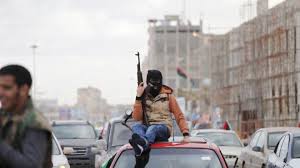 Lawyer, 2 Police Killed in Libya
TRIPOLI, Libya November 9, 2013 (AP)
Gunmen shot dead two policemen in Libya's second city and a state attorney was killed when a bomb blew up his car in an Islamist militant stronghold on Saturday, the latest violence to hit the country's restive east, security officials said.
Assassinations of public figures and security officials are frequent in Libya. Many killings are blamed on militias, which the government is struggling to control even as it continues to rely on many of them to impose order.
A security official in the city of Darna, known for its hard-liners, said a bomb struck a car carrying public attorney Mohammed Khalifa al-Naas. Meanwhile, unknown gunmen fired at a security patrol in a commercial area in Benghazi, Libya's second city, leaving two policemen dead, another security official said.
The officials spoke anonymously because they were not authorized to speak to the media.