What goes around comes around Erdogan.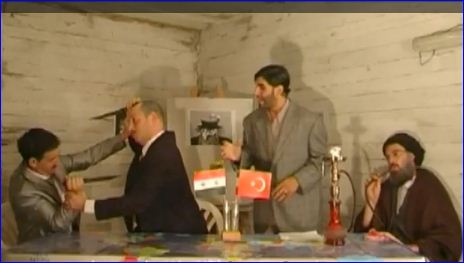 Well well, the Turks do have indeed a few pressure points of their own worth squeezing for maximum effect.
There are marked cultural and religious differences between Turkey's Alawites and Alevis, including language and religious rituals. Unlike the Kurdish- and Turkish-speaking Alevis, the Arabic-speaking Alawites share close ties with the Syrian regime. But both groups have criticized the Turkish government's support for Syria's Sunni opposition.

On the streets of Antakya, Alawites say they fear Sunni jihadist groups operating close to the border more than they do local Sunnis. They say Syrian rebels and activists have provoked tension between the communities by boycotting Turkish Alawites' shops and sometimes refusing to be treated by Alawite doctors.
In Southern Turkey, Renewed Fears of Sectarian Strife
By AYLA ALBAYRAK
Nov. 6, 2013 7:09 p.m. ET
On Sunday, thousands of Alevis gathered in Istanbul to protest what they see as discrimination and demand official recognition of their faith in a new constitution. Agence France-Presse/Getty Images
ANTAKYA, Turkey—Sectarian violence in this border city once made Esma too afraid to travel to a hospital to give birth to her first child. An Alawite, she feared the street battles playing out between Sunnis and members of her sect.
More than three decades later, now a grandmother, the 60-year-old is anxious again.
"We're afraid that those days could come back," said Esma, pointing to recent protests that killed three young Alawite men in her neighborhood. "We can't even go to the center of town in the evenings," she said, declining to give her full name for fear of retribution.
Since ethnic violence last flared in Turkey's south in the late 1970s, the area has become a bastion of multiethnic tolerance, widely praised for how its Sunni and Alawite leaders have damped sectarian tensions.
But the civil war raging across the border in Syria is increasingly tearing at community relations in Turkey, particularly in the south. Turkish Alawites—an offshoot of Shia Islam that is at odds with the Sunni sect—say government's Sunni-oriented domestic policy and aggressive support for Syria's Sunni-dominated opposition is hardening the dividing lines between Turkish communities.
Elders in Alawite neighborhoods of Antakya have stepped in recently to halt street demonstrations for fear of broader clashes with Sunni neighbors.
"We were afraid the protests would turn into a Sunni-Alawite fight," said Ali Yeral, head of a local Alawite association. "The police and the governorate warned us that the Sunni groups were considering hitting the streets, too," he said.
At least six people were killed over the summer in antigovernment protests across Turkey—five of whom were Alawites or Alevis, who share similar religious and cultural values with Alawites but account for a much larger percentage of the country's 76 million people.
Since September, demonstrations have re-emerged in some Alevi districts of Istanbul and the Turkish capital of Ankara. On Sunday, thousands of Alevi citizens gathered in Istanbul to protest discrimination and demand official recognition in a new constitution. The gatherings have been smaller than those that made headlines over the summer, some have struck a notably more sectarian tone.