Finnish media malfeasance.
Earlier todayday I published about an incident that happened on Wednesday during a speech by Turkish PM, Recep Tayyip Erdogan, while speaking to a mixed crowd of Finnish and Turkish business people in the Finlandia House in Helsinki. A Turkish woman stood up and…..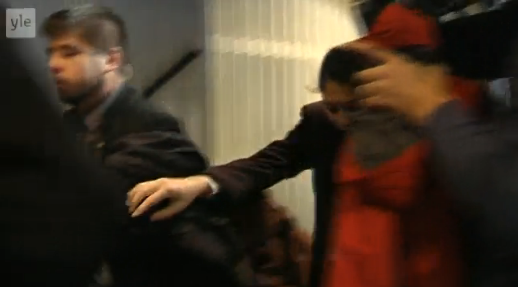 YLE: a woman rose and shouted "Mr Prime Minister, unemployment stands at ten percent!" and "Everywhere Taksim, everywhere resistance!" in Turkish before she was hustled out of the auditorium by security.

The woman had been holding banners displaying pictures of young people killed in unrest this summer at Taksim Square in Istanbul, where Turkish people gathered to protest at plans to build on the Gezi park. There was also a small protest outside Finlandia Talo.
The Finnish state broadcaster YLE's video footage however, showed only the latter half seen in the video below that I captured from a Turkish site. The beginning of the video, the more news worthy footage in my opinion, was left unused. One can only assume that the reason why the Finnish public had their news censored by the gatekeeper at the taxpayer funded 'news' organization, YLE, was to avoid any diplomatic "offense" to the Turkish PM.
Here it is, and do note that there isn't a single Finnish policeman in site, it's all Turkish security, in spite of the fact the Prime Minister of Finland, Jyrkki Katainen, is seated on the platform while Erdogan is speaking.