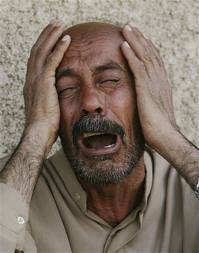 Five killed in Yemeni border dispute
06 November 2013 11:41
Al Kesiri and Al Basahih tribe members die when the quarrel quickly escalates into a gunfight.
HADRAMAWT (AA) – A "border dispute" between two tribes in Yemen's Hadramawt province cost the lives of five people.
Three people from the Al Kesiri tribe and two from the Al Basahih tribe were killed when the quarrel quickly escalated into a gunfight, according to information an AA correspondent obtained from security sources.
Some people were wounded in the clash, but no information was given regarding figures.
Iraq attacks kill 15, mostly police
A fuel tanker burns in the southern city of Basra on May 21, 2007 (AFP Photo/Essam al-Sudani)
Baquba (Iraq) (AFP) – A suicide bomber detonated an oil tanker rigged with explosives at a police station north of Baghdad on Wednesday, killing seven policemen, while attacks elsewhere left eight dead, officials said.
Iraq is mired in its worst violence since 2008, with more than 5,500 people killed this year despite major military operations targeting insurgents and tightened security measures.
In Wednesday's deadliest attack, a suicide bomber drove an explosives-rigged tanker in front of police station in Muqdadiyah, in restive Diyala province, and detonated it at the entrance, police and a doctor said.
The attack killed seven people and wounded 11 others, all police, and caused massive damage to the station.
The bombing is the latest in a string of attacks targeting police in the past week in Kirkuk, Salaheddin and Diyala provinces.
Bombings kill 16 in Syria
By DIAA HADID17 hours ago
BEIRUT (AP) — Bombs targeting the entrance of a landmark Ottoman railway building in Damascus and a feared security agency in Syria's southeast killed at least 16 people on Wednesday, activists reported.