The disturbing thing is that Finnish leaders have been in the sack with the Islamoturks for some time now, pushing their agenda. This is all about markets, Finnish crony corporatists are behind this, drooling for an economic market with them and couldn't care less about the societal cost.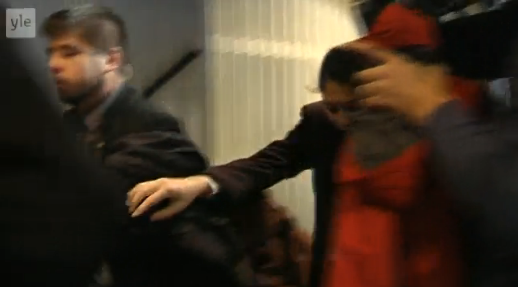 Protester disrupts Erdogan speech in Helsinki
YLE: A protester disrupted Turkish Prime Minister Recep Tayyip Erdogan's speech to assembled trade representatives and ministers in Helsinki. The visiting premier earlier met senior Finnish leaders including President Sauli Niinistö and Prime Minister Jyrki Katainen
Erdogan was due to give a speech at Finlandia Talo to an audience composed of Finnish and Turkish businesspeople and politicians.
As he was beginning his remarks, a woman rose and shouted "Mr Prime Minister, unemployment stands at ten percent!" and "Everywhere Taksim, everywhere resistance!" in Turkish before she was hustled out of the auditorium by security.
The woman had been holding banners displaying pictures of young people killed in unrest this summer at Taksim Square in Istanbul, where Turkish people gathered to protest at plans to build on the Gezi park. There was also a small protest outside Finlandia Talo.
After a short pause and a round of applause from the assembled dignitaries, Prime Minister Erdogan continued his speech.
Finnish premier Jyrki Katainen followed Erdogan, using his speech to stress the rule of law and civil liberties. He said that Turkey represented attractive business opportunities, but that is not the only area of interest for the European Union.
"The EU isn't just a free trade area, but a union of values," said Katainen. "That cannot be emphasised enough. Civil liberties and markets are part of a package."