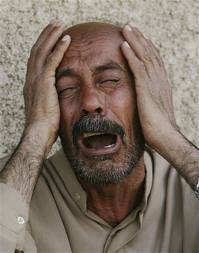 Attack on Nigerian wedding convoy leaves 30 dead
(AFP) – 13 hours ago
Maiduguri — Gunmen have attacked a wedding convoy in Nigeria's northeastern state of Borno, killing more than 30 people including the groom in a suspected ambush, witnesses and survivors said Sunday.
The attack took place Saturday on the notorious Bama-Banki road when the wedding revellers, including friends and relatives of the groom, were returning to the state capital Maiduguri after the ceremony in Michika, in nearby Adamawa State, they said.
"It was a gory scene," said Kyari Buba, a driver, adding that he had seen more than 30 dead bodies on the side of the road following the attack.
"I was in the middle of the convoy when the gunmen attacked and I was able to stop the vehicle in time to open the door and run into the bush along with the people I was with," he said.
"When we returned long after the gunmen were gone we met a gory scene with more than 30 people shot dead or slaughtered," he told AFP.
"All the victims were brutally murdered by the attackers," he said, describing his shock at the sight of the bodies.
A survivor and friend of the groom, Japhet Haruna, 36, recounted his escape from the assailants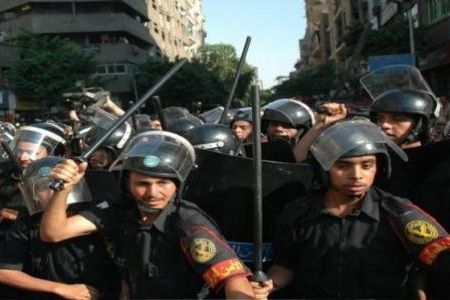 Two Egyptian policemen killed in another drive-by shooting
A police sergeant and a conscript gunned down by unknown assailants on Egypt's Cairo-Ismailia road on Sunday
Ahram Online, Sunday 3 Nov 2013
Two policemen were killed in the late hours of Sunday when unknown assailants attacked a security checkpoint on Egypt's Cairo-Ismailia road.
According to Ahram's Arabic news website, they were killed by gunmen in a drive-by shooting on the road linking the capital with the Suez Canal City of Ismailia.
Al-Taher Mohamed, a 35-year-old police sergeant, was killed a by a gunshot to his chest while Ahmed Ateya, a 22-year-old conscript, received a bullet in his stomach.
The incident comes almost a week after three policemen were killed in the Nile Delta city of Mansoura when four assailants on motorcycles opened fire on them.
Egypt has been gripped by unrest since the army overthrew Islamist president Mohamed Morsi on 3 July amid mass protests against his rule.
US-led trooper killed in fierce clashes in E Afghanistan
Sun Nov 3, 2013 2:4PM GMT
Violent clashes between foreign forces and Taliban militants have claimed the life of at least one US-led soldier in the troubled eastern Afghanistan.
Local media reports said the soldier was killed after he came under fire by a group of militants in the country's volatile east on Sunday.
The nationality of the soldier and the exact location of the incident are still unknown and the foreign military alliance has not commented on his death either.
There has been a surge in the number of militants' assaults against Afghan forces, foreign troops, and civilians in the war-torn country in recent months with US-led troops and Afghan forces falling prey to Taliban attacks on an almost daily basis.
Three killed in Yemen sectarian clashes as truce fails to take hold
By Mohammed Ghobari
SANAA | Sun Nov 3, 2013 6:40am EST
(Reuters) – At least three people were killed in fighting between rival Muslim clans in northern Yemen on Sunday, a local official said, bringing the death toll from five days of clashes to 58 as the government tried to broker a ceasefire.
The battles between Shi'ite Muslim Houthi fighters and rivals from a Sunni Salafi group erupted last Wednesday in the mountainous Saada province, which has long been outside the control of the central Yemeni government.
Yemen's stability is a priority for the United States and its Gulf Arab allies because of its strategic position next to oil exporter Saudi Arabia and shipping lanes, and because is home to one of al Qaeda's most active wings.
The sectarian fighting in the north has cast a shadow over national reconciliation efforts launched this year after long-serving President Ali Abdullah Saleh was forced to step down following a popular uprising in 2011.
Family murdered in Benghazi car blast
By Ahmed Elumami and Maha Ellawati.
Tripoli/Benghazi, 3 November 2013:
A member of the 17 February Brigade, Sulaiman Ahmed Al-Fsaee, and his family were killed today when an explosive device beneath their vehicle was detonated.
Fsaee and his nine year-old son died in the explosion. His wife and two year-old child were rushed to Casualty, but they were in a critical condition and both died in the hospital, spokesman for the Benghazi Joint Security Room, Abdullah Zaidi, told the Libya Herald.