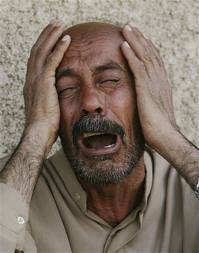 'Qaida' gunmen kill three in Yemen attack
Published Thursday 31/10/2013 (updated) 01/11/2013 19:50
A Yemeni soldier stand on a hill overlooking Sanaa, on Jan. 13, 2010
(AFP/File Ahmad Gharabli)
ADEN (AFP) — Suspected al-Qaida gunmen shot dead on Thursday two soldiers and a civilian in an attack on an army checkpoint in the southern province of Abyan, a local official said.
The assailants opened fire at a checkpoint in the Ahwar area, and sped away in their car," said the official, adding that the attack left also three people wounded.
"The attackers who are suspected of belonging to al-Qaida, managed to escape," the official said.
The soldiers belonged to the 111th Brigade, whose command in Ahwar came under attack earlier this month with a car bomb that killed six soldiers and wounded 17 others.
In other unrest, armed men attacked an office for intelligence services in Khor Maksar, in the port city of Aden, wounding a policeman and a passerby, a security source said.
Two French journalists killed in Mali town of Kidal
RFI said the two journalists were passionate about Africa
Two journalists for French radio station RFI have been killed after they were kidnapped in the northern town of Kidal in Mali.
Claude Verlon and Ghislaine Dupont were abducted after interviewing a local political leader. Their bodies were found outside the town soon after.
French President Francois Hollande called the killings "despicable".
The killings come days after France was celebrating the release of four hostages from neighbouring Niger.
'Strange noise'
Radio France Internationale said Claude Verlon and Ghislaine Dupont were on their second assignment in Kidal, having travelled to the town in July to cover the first round of the presidential election.
Pakistani Taliban gather for funeral of leader killed by drone
Video grab of Pakistani Taliban chief Hakimullah Mehsud sitting with other millitants in South Waziristan (Reuters TV/REUTERS / October 5, 2009)
Jibran AhmadReuters1:30 a.m. CDT, November 2, 2013
PESHAWAR, Pakistan (Reuters) – Pakistani Taliban fighters gathered on Saturday for the funeral of their leader who was killed by a U.S. drone aircraft while some Pakistani politicians denounced the attack and called for the cutting of U.S. supply lines into Afghanistan.
Pakistani security officials said Hakimullah Mehsud, who had a $5 million bounty on his head, and three others were killed on Friday in the militant stronghold of Miranshah in northwest Pakistan.
Mehsud was killed when his vehicle was hit after he attended a meeting of Taliban leaders, a Pakistani Taliban fighter said. His bodyguard and driver were also killed.
Mehsud took over as leader of the Pakistani Taliban in 2009. The group's two previous leaders were killed in attacks by U.S. missile-firing drone aircraft.
Syrian Network for Human Rights (SNHR) releases a report, saying 22 press members were killed in October, 2013.
02 November 2013 17:30 (Last updated 02 November 2013 17:36)
ISTANBUL (AA) – Syrian Network for Human Rights (SNHR) declared that 22 press members were killed in Syria in October, 2013.
According to a report released by SNHR, 21 of those slain were killed by Assad regime forces and one by organization of Islamic State in Iraq and Damascus (ISID).
The report documented the crimes committed against the photo-journalists, cameramen and reporters who had been working in Syria, also stating two press members died of torture by security forces in Syria.
Four killed in Iraq shootings
02 NOVEMBER 2013
Four security personnel, including two anti-al-Qaida militiamen, have been killed in shootings in north-central Iraq.
Police officials said the first attack took place early today when gunmen in a speeding car killed two fighters and wounded four others at a security checkpoint manned by Sunni Sahwa militiamen in the city of Samarra.
30 Shabaab militants killed in attack on Somalia base
The Somali National Army (SNA) has killed more than 30 Shabaab militants in Kolbio, close to the Kenyan border, the Kenya Defence Forces has said.
Military spokesman Major Emmanuel Chirchir said SNA are believed to have attacked a base belonging to the militants.
On Tuesday, a senior US military official told the media that a drone strike in southern Somalia had killed two Al-Shabaab militants including the group's top explosives expert.
Afghanistan clashes kill 13
Clash kills 13 in Afghanistan, including seven Taliban fighters, three soldiers and three civilians, says a security source.
World Bulletin / News Desk
Armed clashes between Taliban fighters and Afghan security forces killed 13 people and wounded 15 others in the northern province of Faryab on Friday.
The violence ensued after security forces staged an attack on the Taliban fighters as they were organizing an attack, according to a security command center spokesman Muhammed Reza.
Noting that four important Taliban commanders were among the dead, Reza said seven Taliban, three soldiers and three civilians had been killed.
Sectarian clashes kill 55 in lawless north Yemen
SANAA | Sat Nov 2, 2013 6:06pm GMT
(Reuters) – The death toll in four days of clashes between rival Muslim clans in north Yemen rose to 55 on Saturday, one of the clans said, as the Yemeni government tried to broker a ceasefire in a region that lies largely outside its control.
Shi'ite Houthi rebels launched an attack on the town of Damaj, held by their Sunni Salafi rivals, on Wednesday.
The army said earlier a ceasefire had come into effect on Friday afternoon, but a Salafi spokesman then said clashes had continued on Saturday, and that in all 55 Salafis had been killed by rockets and tank fire.