A toxic outrage waiting to be exhumed and properly disposed of.
The leader of Germany's Jewish community, Dieter Graumann, reacted angrily.

"That one of the most brutal Nazi sadists is buried in a Jewish cemetery is a distasteful monstrosity. The memory of the victims is being treated here with contempt," he told Bild.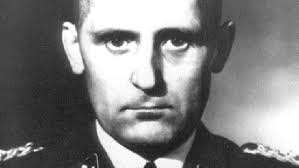 Nazi Gestapo chief 'buried in Jewish cemetery'
AFP – The head of Hitler's Gestapo secret police and one of the organisers of the Holocaust, Heinrich Mueller, was buried in a Jewish cemetery in Berlin in 1945, a German newspaper reported Thursday.
For 68 years, the fate of "Gestapo-Mueller" has been unclear but Bild, based on documents found by a historian, said he died at the end of the war and was buried in a common grave in a Jewish cemetery in central Berlin.
"Mueller didn't survive the end of the war," the mass circulation newspaper quoted Johannes Tuchel, head of the Memorial to the German Resistance, as saying.
"His body was interred in 1945 in the Jewish cemetery in Berlin-Mitte in a mass grave," he said.
Mueller was long rumoured to have survived World War II. Bild quoted a German BND foreign intelligence file stating that Mueller was in Carlsbad in the former Czechoslovakia in summer 1949.
But Tuchel told Bild that the secret services were wrong.
"Mueller's body was already found in August 1945 in a provisional grave near the former Reich's aviation ministry by a burial commando," he told Bild.
His body was dressed in a general's uniform, Tuchel said. "In the inner left breast pocket was, among other things, his service certificate with a photo," he went on.
Bild also printed a document it said was from the registrar's office in Berlin-Mitte showing Mueller was buried in the district's Jewish cemetery.
[subscribe2]