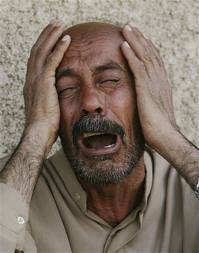 As Iraq seeks U.S. arms, bombs kill another 55

By Kareem Raheem and Ahmed Rasheed
BAGHDAD | Sun Oct 27, 2013 3:02pm EDT
(Reuters) – A dozen bombings in Iraq killed 55 people on Sunday as the prime minister prepares to travel to Washington to seek President Barack Obama's help in confronting a wave of sectarian violence fuelled by Syria's civil war.
Killings, mostly blamed by the Shi'ite-led government on Sunni Islamists from al Qaeda, are running at daily rates not seen in five years and Nuri al-Maliki will ask Obama on Friday to speed up promised deliveries of drones and F-16 jets that he believes can help staunch the long desert border with Syria.
Iraq's own security forces, trained and equipped by the U.S. troops who withdrew in late 2011 after a nine-year occupation, have been unable to prevent a surge in violence which has taken the civilian death toll so far this year to about 7,000. Sealing the Syrian border would only address part of the problem.
Policeman killed as gunmen attack postal vehicle
Al-Masry Al-Youm
A low-ranking police officer from Sohag, Upper Egypt, was killed and another injured Sunday after gunmen attacked a police car protecting a money transit vehicle belonging to the Egyptian Postal Authority.
Initial investigations revealed that residents from al-Atamana Village may have attacked the car after a supporter of toppled President Mohamed Morsy was arrested on charges of burning a police station in the village.
Roadside bomb kills 18 wedding guests in Afghanistan
The attack happened in a poor and deeply traditional Pashtun area
A roadside bomb attack in Ghazni province, south of the Afghan capital Kabul, has killed 18 people on their way to a wedding, officials say.
They said nearly all of the dead were women and children travelling in a minibus which was completely destroyed.
Taliban militants have denied any responsibility for the attack.
Afghan civilians are often hit by roadside bombs used by suspected Taliban militants to target security forces and officials.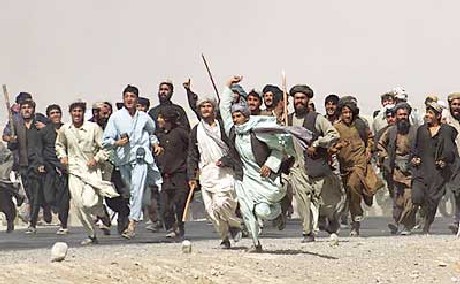 12 (TT edit:militants) Islamic terrorists killed in Afghanistan
Sunday, Oct 27, 2013, 14:58 IST | Agency: IANS
At least 12 Taliban (TT edit: militants) Islamic terrorists were killed in a series of clean-up operations since Saturday, the Afghan interior ministry said Sunday.
"Afghan National Police conducted several clearance operations with the cooperation of the army, National Directorate for Security and the NATO-led coalition forces in Kunar, Nangarhar, Kandahar, Wardak, Farah, Helmand and Nimroz provinces over the past 24 hours. As a result 12 armed Taliban were killed, 10 wounded and seven others were arrested," Xinhua quoted the Afghan interior ministry as saying in a statement.
Over 100 Killed In Syria Bombing
Posted by: niyi on October 26, 2013
At least 104 people were killed and dozens more wounded on Friday in a car bomb explosion near a mosque in the Damascus province town of Suq Wadi Barada, a monitor said.
"At least three of the dead were children," said Observatory director Rami Abdel Rahman. Other activists said the death toll was 210.
The town is under rebel control, but troops loyal to the regime of President Bashar al-Assad were positioned right outside it, said the Syrian Observatory for Human Rights.
SOLDIER KILLED IN BOMBING NEAR MIRANSHAH
 OCT 27 2013  
 BY AFP
File Photo
THREE OTHER SOLDIERS INJURED IN IED ATTACK THAT TARGETED CONVOY OF ARMY VEHICLES.
A roadside bomb killed a soldier and wounded three others in a restive Pakistani tribal region near the Afghan border on Sunday, officials said.
The explosion took place at Chashma Pul, two kilometers east of Miranshah, the capital of North Waziristan tribal region, known as a bastion of Taliban and Al Qaeda-linked rebels.
"An improvised explosive device planted along the roadside went off as a convoy of at least 35 Army vehicles passed by it, killing one soldier and wounding three others," according to a local security official.
Another security official confirmed the incident and casualties. He said security forces also defused two bombs planted at different locations in nearby Mir Ali town.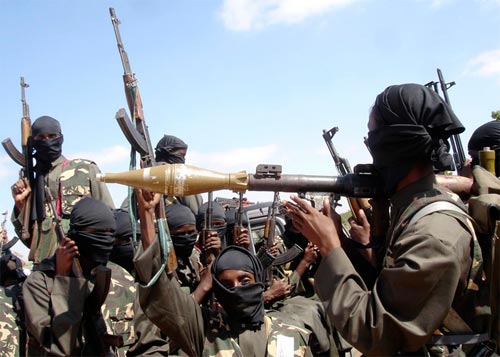 95 Boko Haram fighters killed in Nigeria
Afp, Maiduguri
Nigeria's army on Friday said it had killed 95 suspected Boko Haram fighters in raids in the country's northeast, as gunmen from the Islamist group battled security forces in a neighbouring area.
The army, which is battling to crush a four-year Islamist uprising in Nigeria, said it deployed bombs and ground troops to destroy insurgent camps in Borno on Thursday.
Army spokesman Mohammed Dole said that "74 suspected militants" were killed in the assault outside the Borno capital Maiduguri, where Boko Haram was founded more than a decade ago.