Good intentions don't always translate into usable data.
"I think we started a debate which is very important by focusing on hate crime. Even a single one is one too much," she said.

Let's be clear. Beyond stares and a mindless insult, nothing truly serious happened when I wore the kippah for a few hours. But enough unsavoury incidents have occurred in Malmö to suggest that something could have happened.
I agree with Vlad, try wearing the kippah for a month, traveling through all parts of Malmö during all times of the day, especially the area I and Elisabeth Sabbaditsch-Wolff and others from the counterjihad visited a few years ago, and tells then about your experiences, not just about 3 hrs with a bodyguard. A for effort, D+ for execution.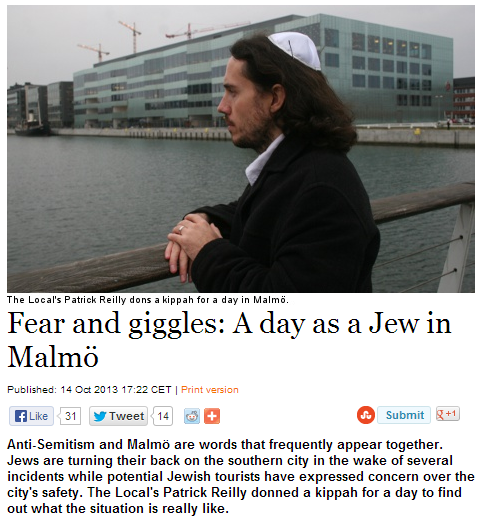 […]
When I told Goldberg I intended to wear a kippah for a day he was initially concerned.
"Don't do anything you wouldn't ordinarily do. Be careful as at times it can be unpleasant," he advised.
The idea was to go about my normal day and also visit places which a potential tourist may go to, albeit with one major difference – the kippah clipped to the back of my head.
My intention was not to take the biggest risk possible by venturing into a suburb like Kroksbäck where a Gambian national was recently assaulted along with his young son and nearly thrown off a bridge in a racially motivated crime. Besides, Kroksbäck along with say Rosengård are not exactly tourist hotspots.
Well, it didn't take long before I got the feeling that I was on display as I walked towards Möllevången. Möllan, as it is referred to by locals, is the bohemian quarter of Malmö with a bustling fruit and veg market manned largely by immigrants by day and pubs serving cheap beer by night.
I've walked down this street countless times in my normal garb, without causing as much as a backwards glance. Now, it was as if I had two heads judging by the number of stares arrowed in my direction.
As I passed a well-known bar I spotted some lunchtime coffee drinkers looking open mouthed in my direction. Navigating the fruit and vegetable stalls it was obvious that I was being stared at by shoppers and stall workers.
When it came time to make a purchase something strange happened. The stall worker started to giggle and beckoned his boss to come over and witness this transaction. Both were friendly to the point where it was almost too much.
Stares I'd expected but good-natured laughter I certainly hadn't. This was strange.
For safety reasons I asked a friend to shadow me from a discrete distance just in case things got ugly. Whilst in Möllan we went to one of the local coffee shops sandwiched between the falafel and ethnic food stores.