The Muslim Brotherhood needs to be treated as a terrorist group, all of its affiliated banned from existence, and its former leaders and members marginalized, and in many cases, arrested and thrown in jail and after time served, deported.
H/T: Fjordman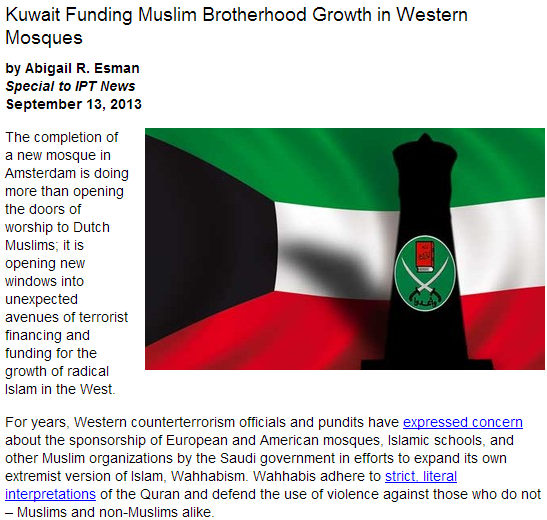 Now, however, it seems we've been so focused on the Saudis, we may have missed a potentially even greater source of radicalization, and certainly a fast-growing one: the Muslim Brotherhood. And the government of Kuwait, with ties to al-Qaida groups and Hamas, appears to be among the largest financiers of Brotherhood infiltration into Europe.
This is where the Amsterdam mosque comes in. Located in the largely Muslim neighborhood of Sloterdijk, the Blue Mosque has been the subject of controversy in the Dutch press since its conception. A report that the government of Kuwait was paying salaries to its imam and other officers recently propelled the mosque – and its organization – into the headlines. Those reports have since been challenged, but the gist of them remains true: through a pan-European organization called the Europe Trust, Kuwait is tying Dutch and other European Muslims directly into the Muslim Brotherhood via complex financial, non-profit and religious networks that stretch from Spain to Ireland – and across the Atlantic to New York.
Based in the UK, the Europe Trust is funded largely by Kuwait (with help from the UAE-based Makhtoum Foundation, about which, more later), and, according to theMiddle East Quarterly, "channels money from the Persian Gulf to groups sympathetic to the Brotherhood in Europe, primarily to build mosques." Indeed, the Blue Mosque was funded entirely by Kuwait, working through the offices of the Europe Trust Nederland (ETN). Others have tied the Europe Trust to the Brotherhood as well; but particularly notable is the fact that the Trust is led by Ahmed Al-Rawi, a UK-based Muslim Brotherhood leader, and Nooh al Kaddo, a Dublin-based Iraqi who runs the Islamic Cultural Center of Ireland (ICCI), well known as a Brotherhood institution. The ICCI also houses the European Council of Fatwa and Research, whose director, the Egyptian cleric Yusuf al Qaradawi, has reportedly "defended suicide bombing and advocated the death sentence for homosexuals, according to the Irish Independent. (Kaddo, for his part, defends Qaradawi, describing his views in the Independent as "representative of Islamic teachings and not assumed to be a violation of same.")