Acting in accordance with the precepts laid down by their founder, Mohamed.
This is exactly what those of us in the Counterjihad have been talking about, warning against for years, Muslims enforcing sharia upon those not belonging to their ideology, dhimmitude. Non-Muslims under Islam are not equal citizens, they are granted very limited 'rights' by the Islamic state, but on condition that they pay extortion taxes and 'feel subdued'.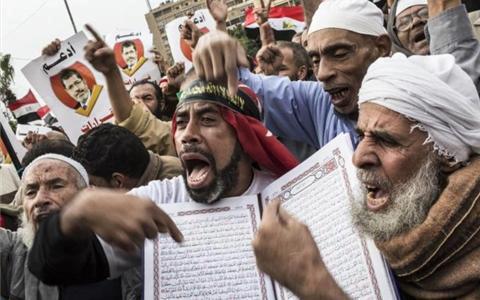 Egypt's Muslim Brotherhood to Coptic Christians: Convert to Islam, or pay 'jizya' tax
The Muslim Brotherhood and its supporters have began forcing the roughly 15,000 Christian Copts of Dalga village in Egypt to pay a jizya tax as indicated in Koran 9:29, author and translator Raymond Ibrahim reported on Sunday.
Jizya is the money, or tribute, "that conquered non-Muslims historically had to pay to their Islamic overlords 'with willing submission and while feeling themselves subdued' to safeguard their existence," Mr. Ibrahim explained.