Pedophile rape-marriage.
Pedophilia is not a phenomenon exclusive to one culture, it appears in vastly diverse societies all over the world. There is one community of people however, whose governing ideology (Islam) gives sanction to the depraved and inhumane practice. In the West it's a criminal offense, in many Islamic countries that adhere to a closer reading of Mohamed's laws, it's a highly prized practice.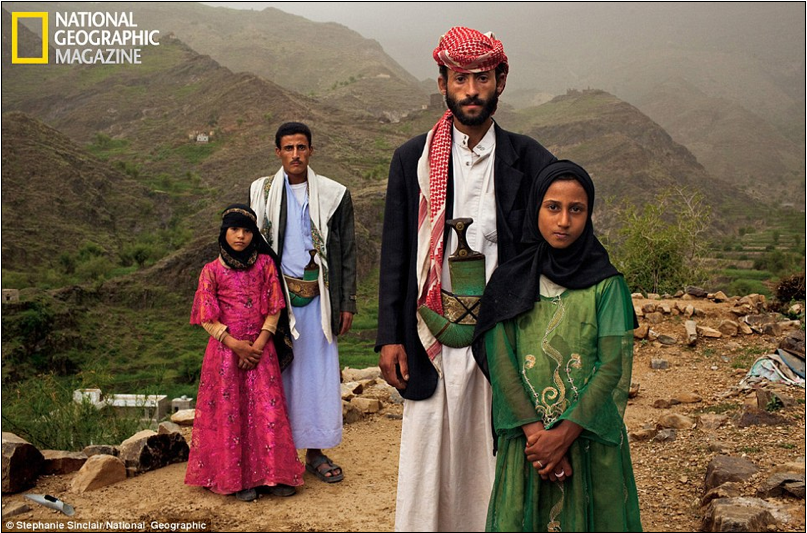 NOTE: Mohamed became the most famous pedophile in recorded history when he rape-'married' his 'wife' Aisha, a girl no more than 6 years old. It's the reason why the late ayatollah Khomeini, de facto leader of the Iranian revolution that overthrew the Shah of Iran, greatly approved of sodomizing young girls, even using temporary marriages to do it.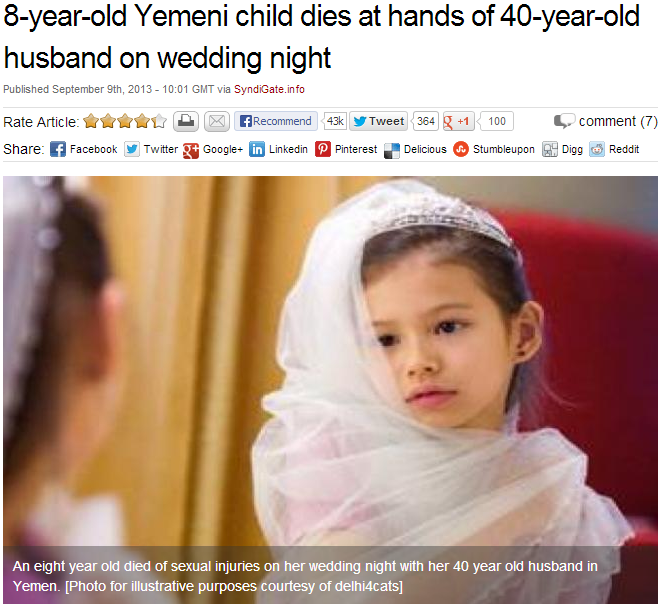 An eight year old child bride died in Yemen on her wedding night after suffering internal injuries due to sexual trauma. Human rights organizations are calling for the arrest of her husband who was five times her age.
The death occurred in the tribal area of Hardh in northwestern Yemen, which borders Saudi Arabia. This brings even more attention to the already existing issue of forced child marriages in the Middle Eastern region.
"According to the United Nations Population Fund (UNFPA), between 2011 and 2020, more than 140 million girls will become child brides. Furthermore, of the 140 million girls who will marry before the age of 18, 50 million will be under the age of 15."
It is reported that over a quarter of Yemen's young girls are married before the age of 15. Not only do they lose access to health and education, these child brides are commonly subjected to physical, emotional and sexual violence in their forced marriage.
One of the main issues is that there is currently no consistent established definition of a "child" that has been agreed upon worldwide.  This leaves various interpretations within countries and little protection for those who are affected.
More here. H/T: Fjordman