Too early to say exactly who is involved.
But Ulf is already dropping hints regardless of how irresponsible it is, especially when the church he used to run could have been burnt by the very same people he's supporting:
Ulf Sundkvist says that he had received hate mail after having commented positively on immigrants. But he does not want to believe that the fire was a political consequence of that.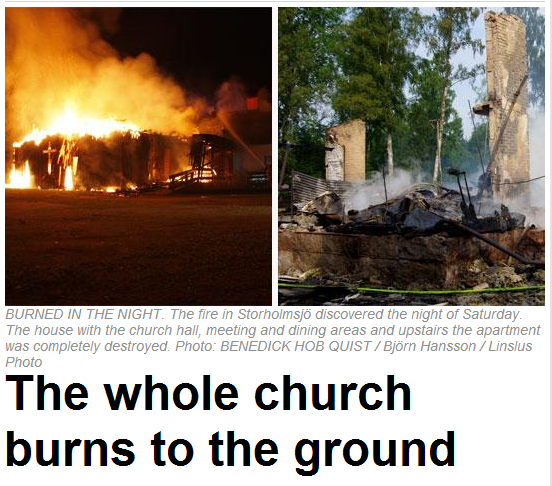 KARLSKRONA. Filadelfia Church building in Storholmsjö outside Karlskrona burned early on Saturday morning to the ground.
Cause of the fire is not known, but police have launched an investigation into the arson.
In the Assembly, everyone is shocked.
-"I've had nasty emails and sometimes there has been graffiti on the church. But I cannot believe that this is someone who wants to harm us, says Ulf Sundkvist," pastor of Karlskrona Pentecostal church..
The fire alarm in the small city of Storholmsjö, 30 km north of Karlskrona, arrived last night just before 1 am. Emergency services from Karlskrona, Eringsbodavägen and Storholmsjö were sent to the scene.
– When we arrived there half the building was in flames and we concentrated mainly on preventing the spread of the fire, said Stefan Sjöholm at Karlskrona rescue.
– There was no chance to save something from the building, he says.
NOTE: Here's a video of Muslims marching though the streets of nearby Karlskrona demanding something…. (usually where there's smoke there's fire)