It was an escape attempt by the Muslim Brotherhood gone sour.
This is how how they handle things in the Muslim Middle East, just remember this the next time the West is outraged over some Arabs dying in Israeli defensive campaigns. Israel does its utmost in trying to limit the number of casualties, while the Arabs clearly do not. For the faux humanitarian West, it's just 'Muslims killing Muslims'.
H/T: Fjordman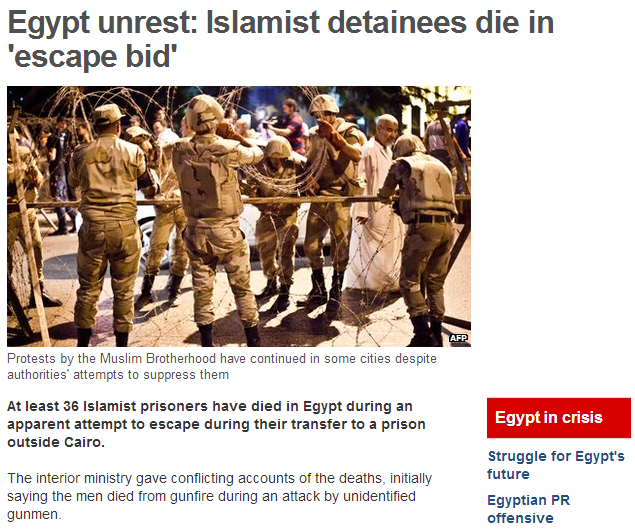 […]
Conflicting accounts
Initially, the interior ministry said the detainees died in an exchange of fire after some of them took a military officer hostage and a convoy of prison vehicles, transporting a total of 612 detainees to Abu Zaabal prison in Qalyubia province, was attacked by unidentified gunmen.
But later the ministry said the prisoners died from the effects of inhaling tear gas, which was fired when the escaping detainees took a police officer hostage. He was freed, but was badly injured, the military's statement added.
A legal source told the Reuters news agency that the detainees had suffocated in the back of a crammed police van.
And officials speaking on condition of anonymity to the Associated Press news agency said that not all the detainees belonged to the Brotherhood.