This is what happens once Muslim demographics reach critical mass.
Sounds like that they're forming militias, and aim to use them in any situation that's deemed as a provocation. Hopefully the UK police will not sweep this one under the carpet, but I'm not very hopeful.
H/T: Scottish Infidel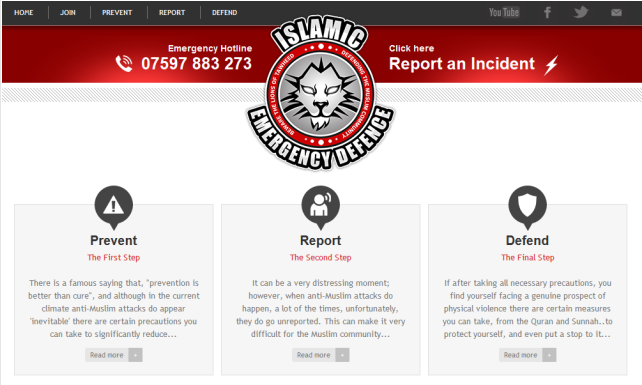 UK MUSLIMS CREATE A WEBSITE WITH 'EMERGENCY HOTLINE' TO MONITOR AND FORM GANGS AGAINST KAFIRS
The aggressor is once more pretending to be the 'poor' victim. [Thanks to Amir for sending this in]
This is a web site for Muslims to report anyone they don't like so a gang will be formed against you. You are a "hooligan" if you offend them in any way. And they offend easy. Its amazing to read their "mind flip..tricks"…  Here is just one excerpt:
"We have already launched an emergency hotline that provides instant access for any Muslim to report an incident, which inshaa'allah will be resolved in a swift and Islamic manner; however, we cannot emphasise enough how much we need your support, particularly from the Muslim youth.
As for those who are planning or who have committed anti-Muslim hate crimes they must know that their hooliganism will not be tolerated by the Muslim community…, and if the police and national government continue to stand by and do nothing, then Muslims must stand side by side to support each other.
We would like to remind all Muslims that to aid another Muslim facing aggression is an Islamic obligation, and that we will all be held accountable before Allah on the Day of Judgement if we sit by and do nothing."