In other words a 'Jew free' state of Palestine.
Jew free like in Jordan, the other 'Palestinian' state. No lack of clarity there, no Jews to live in their Jewish ancient homeland of Judea and Samaria, but of course an Israel, with 1.5 million Arabs, is the chief villain in the mind of the loon Left.
H/T: AO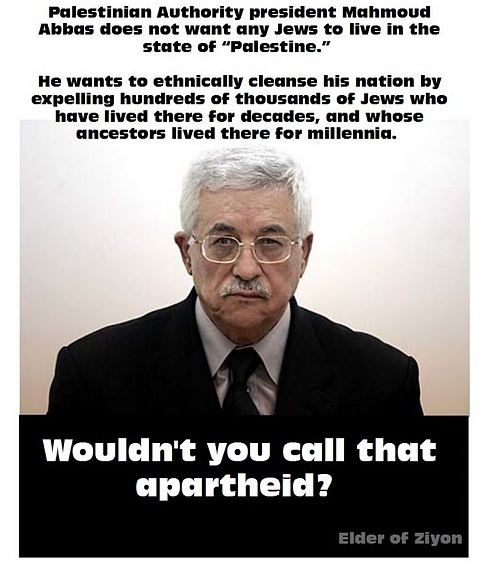 Abbas wants 'not a single Israeli' in future Palestinian state
By Noah Browning
CAIRO | Mon Jul 29, 2013 8:54pm EDT
(Reuters) – Palestinian President Mahmoud Abbas laid out his vision on Monday for the final status of Israeli-Palestinian relations ahead of peace talks due to resume in Washington for the first time in nearly three years.
Abbas said that no Israeli settlers or border forces could remain in a future Palestinian state and that Palestinians deem illegal all Jewish settlement building within the land occupied in the 1967 Middle East war.
The forceful statements appeared to challenge mediator U.S. Secretary of State John Kerry's hopes that the terms of the talks, scheduled to begin Monday night over dinner, be kept secret.
"In a final resolution, we would not see the presence of a single Israeli – civilian or soldier – on our lands," Abbas said in a briefing to mostly Egyptian journalists.