There is a major disconnect going on here.
We're led to believe that the same criminality occurring elsewhere in Europe by Roma gangs magically disappears once they cross into Finland. Nothing to see or hear, move along please.
No links between organised crime, human trafficking and Roma beggars
Beggars from Romania have nothing to do with organised crime, as Roma families oversee the begging, according to an expert from Helsinki's Department of Social Services and Health Care. The police also dismiss claims of connections to organised crime.
BUT WAIT……!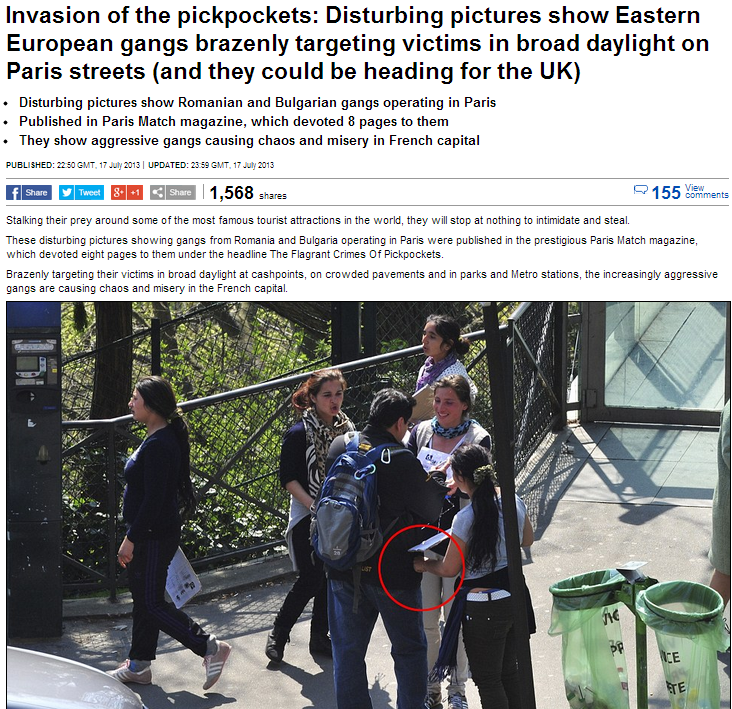 Police patrols have had to be dramatically increased around iconic monuments such as the Eiffel Tower and The Louvre museum, where earlier this year staff walked out because of the lack of protection against organised Roma groups stealing on an industrial scale from workers and tourists.
Countless thefts are being carried out every day by members of the gangs, many of whom are barely teenagers.

And, as Britain prepares to allow thousands of immigrants from Romania and Bulgaria to seek work in the UK as a result of changes to EU immigration rules on January  1 next year, there is every chance of similar Roma gangs coming to the United Kingdom.

President Francois Hollande's Socialist government came to power a year ago promising to rehouse the Roma and integrate them into society.