I can't find any fault in his logic, and dare anyone who does to enter it into the comments.
Here's the lesson from all this, America: Teach your children to not attack people for no good reason whatsoever. Conduct yourself in a responsible, civil manner, and everything will be just fine. Try to kill someone and that someone just may be exercising his or her Second Amendment rights and you could get shot. It's called self-defense, and it is the oldest, strongest and most righteous instinct and God-given right known to man.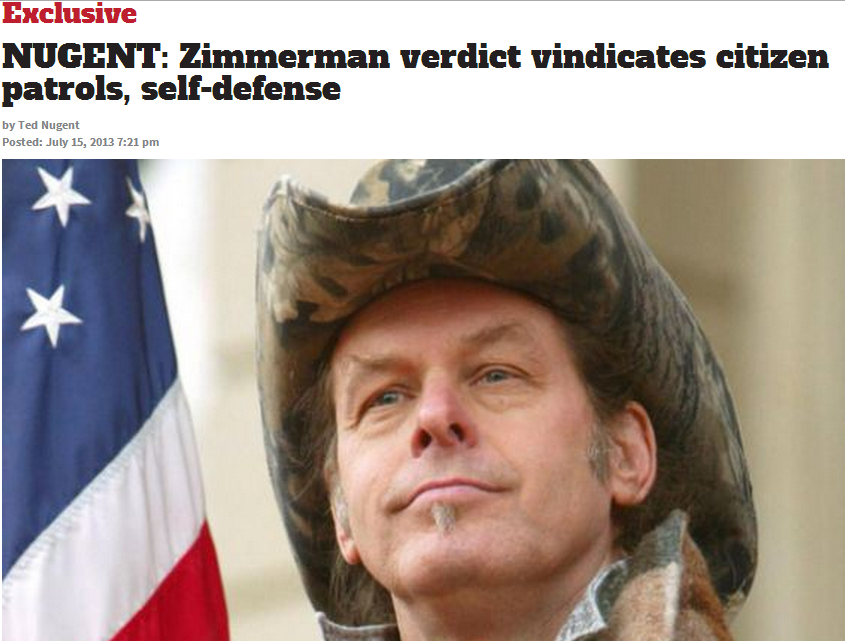 So this guy's neighborhood has been burglarized off and on and the residents are very concerned for their safety and well-being. Neighbors agree to upkick their vigilance and overall level of awareness to watch out for each other and keep an eye out for suspicious individuals and behavior. It could be considered by an official designation such as "Neighborhood Watch", but officially labeled or not, it is the purest form of Americans watching out for each other and being good neighbors.
So far so good.
So George Zimmerman sees what he believes is a suspicious individual in suspicious circumstances, and intelligently and responsibly pays attention and calls 9-1-1 to report what he sees to the officials. This gesture is proof positive he was not looking to do anyone harm or break any laws, but rather perform the fundamental responsibility of a neighbor who cares.
Doing nothing illegal or improper, he follows the individual while answering all the questions from the 9-1-1 operator to the best of his ability, keeping an eye on the individual so the authorities can hopefully intercept and determine exactly what is going on.
For reasons unknown, though I will comment on momentarily, after expressing racism and hostility on the phone to a friend in response to being followed, the suspect now changes course and turns towards George and immediately initiates a hostile verbal confrontation that quickly escalate to a violent physical assault. Within seconds, the suspect has overwhelmed George, has gained the advantage on top, pinning George to the ground, and further escalates the assault to deadly force by smashing George's face, breaking his nose, and violently slamming his skull onto the concrete with all his youthful athleticism.
George screams frantically for help as Trayvon Martin pummels his face and head furiously, inflicting damaging and potentially life threatening wounds. Fearing for his life and about to lose consciousness at the hands of an enraged, violent attacker, George Zimmerman does what anyone who wishes to live would do, and he reaches for his concealed handgun, firing a single shot to neutralize the deadly force being wreaked upon him.