Heartfelt thanks to Dr.Gerstenfeld for the interview.
Anti-Semitism in Finland has unfortunately seen a steady spike in incidents over the past few years, the latest being the actions of Finland's career politician, Pertti Salolainen. What is troublesome, is the rallying of the media and political elite around this man, refusing to believe that his 'half a glass" depiction of what he said, is indeed the reason why Jews in the U.S. reacted strongly against his words in the first place.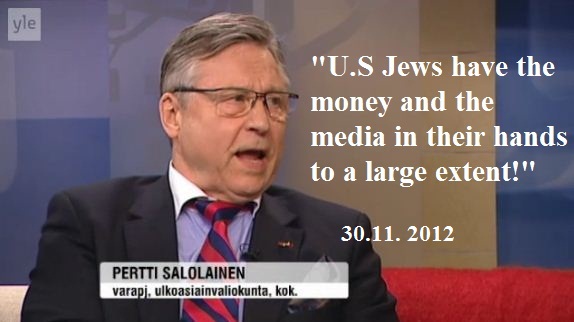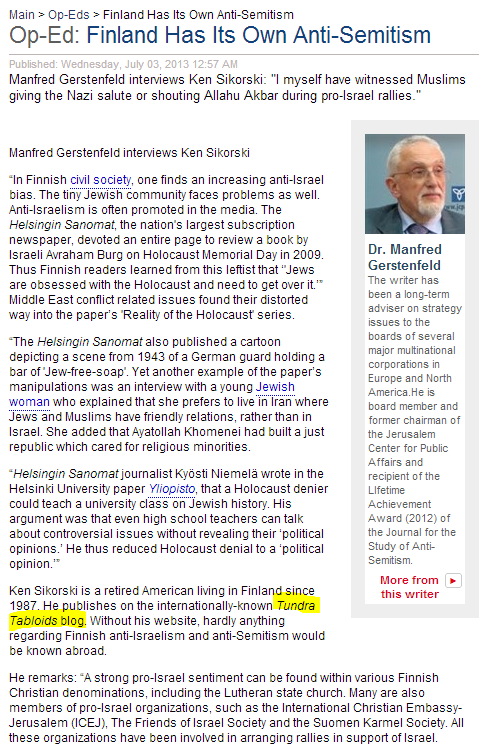 "The official attitude of the Lutheran Church vis-a-vis the Jewish community is one of joint cooperation and mutual respect. Increasingly however, activists within the church's outreach organizations such as Finn Church Aid (FCA) and its Ecumenical Accompaniment Program in Palestine and Israel (EAPPI) attack Israel policies.
"Antti Pentikäinen – brother of Mikael Pentikäinen, (former) editor-in-chief of the Helsingin Sanomat – has recently been appointed head of the FCA. He stated publicly that pro-Israel support by Lutheran Christians is one of the reasons for the continuation of the conflict. Pentikäinen also says that pro-Israel church members should no longer be allowed to use the church facilities.
"Over the past few years, the Finnish media has publicized a report by Finnwatch, an NGO that monitors the activities of Finnish businesses in developing countries. The report was commissioned by the FCA. It became the first concerted attempt by the Lutheran Church – and by extension, the Finnish government that funds it – at involving itself in the anti-Israel Boycott Divestment and Sanctions movement.
"The EAPPI website has been a hotbed of anti-Israel articles from many of the 21 volunteers who have visited the region over the years. One example is an article by activist Heli Pekkonen, which stated that instead of granting freedom of religion, Israel wants to build a Jewish state. She falsely concluded that there's no room for Christianity or Islam in it.
"The Muslim community in Finland numbers around 50,000, or one percent of the country's population. It is far bigger than the Jewish community with only 1,500 members, 1,200 of whom live in Helsinki. There is some Muslim involvement in anti-Israel activities and collaboration with the extreme left, yet less so than in Sweden and Norway. Mohammad Azzizi, who was involved in an anti-Israel demonstration, was elected in 2012 to the Helsinki municipal council. I myself have witnessed Muslims giving the Nazi salute or shouting Allahu Akbar during pro-Israel rallies.
"The Finnish hypermarket chain Prisma, with 64 stores nationwide, promotes the book 'Jewish Domination' by American racist and anti-Semite David Duke. Its website describes the book as 'challenging,' and asks the reader to 'set aside any preconceptions they may have in order to better weigh the book's ideas and evidence.'
"Another supermarket chain of only two stores has used its publicity to disseminate extreme anti-Semitic tropes. Its owner is under investigation by the state prosecutor's office for incitement against an ethnic group. He continues to update his website with additional anti-Semitic statements."
Sikorski concludes, "Regarding kosher slaughter, there is no current political debate. Finland, like Denmark and Austria, imposes a post-cut stunning of the animals. The debate on male circumcision continues to simmer. In 2012, politicians from the Finns party introduced legislation which would criminalize all circumcision for boys under the age of 15. The Finnish Medical Association (FMA) argues for the right of parents to terminate the lives of their unborn children, but objects to non-intrusive male circumcision on the grounds of 'ethics.' The FMA's argument is thus both shallow and contradictory."