A tad peeved with the Muslim Brotherhood's top guy?
The big difference between Mubarak and Morsi, is that the former didn't have tens of millions of loyal supporters ready to murder and maim anyone who disagreed with the regime.
Egyptians Pour Into Streets…
Muslim Brotherhood headquarters attacked…
Return of the revolution?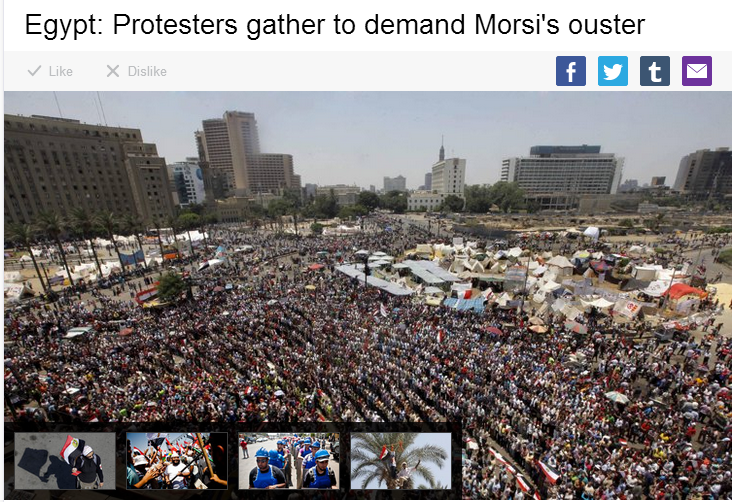 CAIRO (AP) — Tens of thousands of opponents of Egypt's Islamist president massed in Cairo's Tahrir Square and in cities around the country Sunday, launching an all-out push to force Mohammed Morsi from office on the one-year anniversary of his inauguration. Fears of violence were high, with Morsi's Islamist supporters vowing to defend him.
Waving Egyptian flags, crowds packed Tahrir, the birthplace of the 2011 uprising that toppled autocrat Hosni Mubarak, and chants of "erhal!", or "leave!" rang out.
On the other side of Cairo, thousands of Islamists gathered in a show of support for Morsi outside the Rabia al-Adawiya Mosque near the Ittihadiya presidential palace, which the opposition planned to march on in the evening. Some Morsi backers wore homemade body armor and construction helmets and carried shields and clubs — precautions, they said, against possible violence.