UPDATE: Elisabeth Sabaditsch-Wolff to me:

The EDL are guilty only of holding up a huge mirror
KGS: bingo
Elisabeth: and what is in the mirror ain't pretty
KGS: they look at it like a vampire viewing the Sun's dawn in the morning
Elisabeth: (y)
Elisabeth: with lots of blood on their hands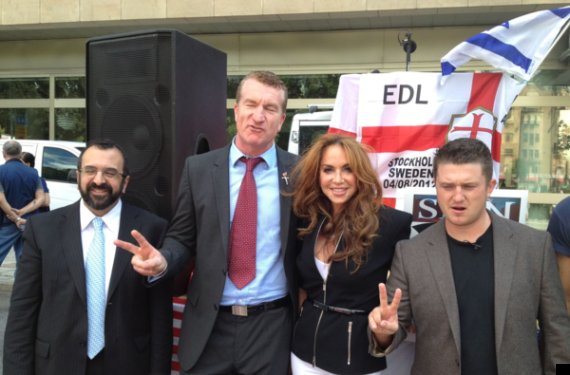 Melanie Phillips sends the enemies of the United Kingdom the message that they have it on the run
Sign the petition asking that we be allowed into the UK here.
Here is the second piece today (the first is here) from an "ally" rushing to our defense while hastening to assure the world that she is not at all like us — a position that is self-defeating no matter what one may think of us.
"The British government's jihad against free thought," by Melanie Phillips, June 27:
By banning from the country as extremists the American anti-jihadis Robert Spencer and Pamela Geller, the Home Secretary Teresa May has not only made herself look ridiculous but has sent the enemies of the United Kingdom the message that they have it on the run.
Indeed. But here comes the kid-gloves caveat:
I do not support the approach taken by either Geller or Spencer to the problem of Islamic extremism. Both have endorsed groups such as the EDL and others which at best do not deal with the thuggish elements in their ranks and at worst are truly racist or xenophobic.
Note in the first place that the letter from the Home Office barring me from the UK said nothing at all about the EDL or "others." (What others?) It quoted a statement of mine that Islam has a doctrine mandating warfare against unbelievers — a statement that is demonstrably true. So Melanie Phillips' bringing up the EDL here is completely gratuitous, designed to distinguish her work from ours, and to show the British elites that she is not tainted with our taint. (Be sure to see Pamela Geller's response here.)