Digging only a tad deeper we'll find that Islam inspired them all.
Oh, and according to the Left, this is the mindset that Israel is supposed to sit down and negotiate with, millions of Tsarnaevs.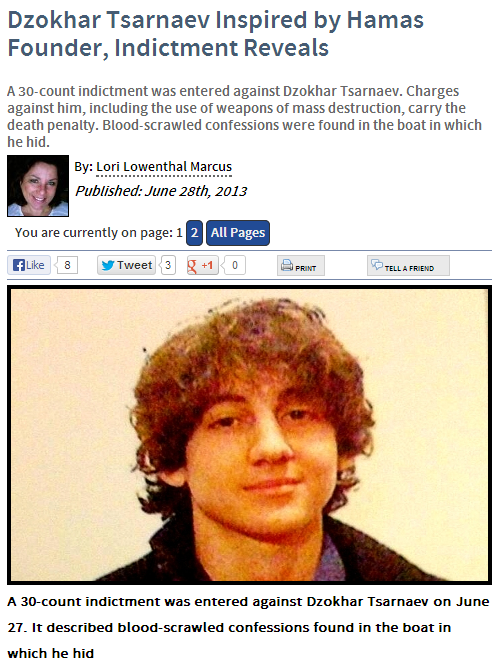 In the months following the dramatic arrest of 19 year old Dzokhar Tsarnaev, the younger of the two Tsarnaev brothers who were identified in photographs released by the FBI on April 18 as the apparent perpetrators of the Boston Marathon bombings, fan clubs, websites and slogans insisting that "Dzokhar was innocent" popped up. Right.
The older Tsarnaev brother, Tamerlan, died as the two attempted to escape in the early morning hours of April 19.
But on Thursday, June 27, a 30-count indictment was issued against Dzokhar Tsarnaev.
The indictment contradicts some earlier media reports that the younger brother was not a killer, but instead was a thoroughly Americanized, goofy younger brother, a naive accomplice bullied by his older brother into "coming along for the ride" on the killing spree.
For one thing, on the day that their pictures began appearing in the international media, the indictment states that the two brothers allegedly armed themselves not just with improvised explosive devices – the ones we all learned to call the "pressure cookers," but with a semiautomatic handgun and ammunition and a hunting knife.  Oh, and a machete.  No one does anything nice with a machete.