At the hand of one of Obama's 'freedom fighters' no doubt.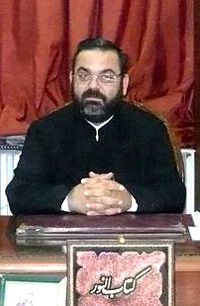 Greek Orthodox priest abducted in Syria is found dead
October 25, 2012 |  8:05 am
BEIRUT — A Greek Orthodox priest has been found slain after being kidnapped near the Syrian capital of Damascus, the Syrian government and the Vatican news service reported Thursday.
The body of the Rev. Fadi Jamil Haddad, pastor of St. Elias Church in Qatana, outside Damascus, was discovered  in the Jaramana district  of the capital, reported Agenzia Fides, the Vatican news service. The site was not far from the area where he was kidnapped by an "unidentified armed group" last Friday, the agency said.
The Vatican agency quoted a colleague saying the priest had been "horribly tortured."
The official Syrian news service said the priest was found with a gunshot wound to his head. The government news agency blamed the crime on "terrorists," its usual characterization of the armed opposition fighting to oust President Bashar Assad.
According to the official  account, the priest was abducted while seeking the release of another person who had been kidnapped by militants.