Pure evil.
Please do remember, the police had refrained from seriously looking into the Muslim sex ring crimes due to Leftist political correctness restraints. They didn't want to be seen as "attacking a certain community", regardless of whatever their members did.
H/T: EDL Buck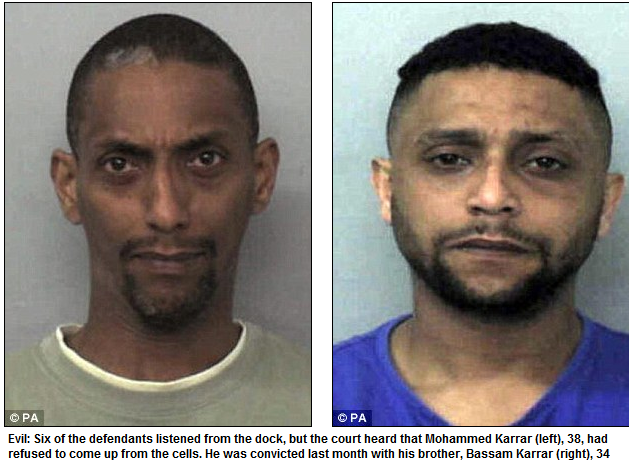 Members of Oxford sex ring 'threatened to cut off the face one of their victims and decapitate her baby after she tried to tell police about years of abuse'
One victim 'considered suicide' and another 'now suffers from PTSD'

Parents tell Old Bailey how seven defendants ruined daughters' lives

One girl's statement says she is prone to depression and self-harming

Other victim says she suffers nightmares, panic attacks and flashbacks

Two-day sentencing hearing for sadistic paedophile ring began today

By MARK DUELL
PUBLISHED: 14:01 GMT, 26 June 2013 | UPDATED: 15:15 GMT, 26 June 2013
Members of a sadistic paedophile ring convicted of grooming vulnerable underage girls for sexual exploitation threatened to decapitate the baby of one of their young victims, a court heard today.
The Old Bailey in central London was also told that one of the Oxford-based sex ring's victims has considered suicide while another suffers from post-traumatic stress disorder as a result of the abuse.
Statements from some of the victims' parents were read out in court ahead of the sentencing of the gang, in which they described how the seven defendants had ruined their daughters' lives.